SEPTEMBER 1ST – 2ND — BACK TO THE GRIND
Work calls us back to the docks.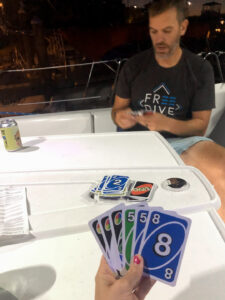 SEPTEMBER 3RD — TORNADO FORMS ABOVE US
Today was just another ordinary work day. It was the evening that made it eventful! Brian and I were sitting in around the table, working on our laptops. We could see the onslaught of sudden lightening flashes outside through the ports. Not thinking too much of it, we moved in to the bedroom as we do with every lightning storm and shut the door. This way we're not sitting right next to our very own lightening rod – the mast. We get comfy on the bed, laptops still on laps, when we see outside that the sky is turning just BLACK. Our phones start to ring with an alarm – I pick it up to read of a tornado warning. Almost immediately after I silenced the alarms, the wind outside began to howl. Our boat started heeling on its starboard side. We sat there almost frozen for the first minute. What were we supposed to do? There's no where to run to, we can't go outside NOW to check our lines. Our boat keeps heeling farther and farther until our starboard port is facing the water, our fenders bouncing around under the dock. A neighboring sailboat's head sail comes unraveled and aggressively flaps around. Brian looks out the port side. "Are those birds or debris?" he says. "There birds!" I say as I get up to look out!" Birds looked as though they were being chucked out of the sky in front of a strange wall of gray like we've never seen. Our view was limited, and we couldn't be sure if we were looking at a tornado or not. The heeling continued on for about 10 minutes, before the wind and rain stopped just as quickly as it began. We came out of our hole once the lightening had passed. The water had rose considerably in the marina. Someone was nice enough to have rolled in the neighboring boats sail. Everyone was out in the marina, telling each other there own versions of the storm.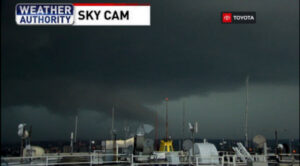 SEPTEBER 4TH — TORNADO AFTERMATH
I found myself interested in the aftermath of the tornado this morning. As I walked off the dock I ran in to the marina manager, where I learned the tornado touched down just outside of the marina gates! I walked to the gates, where you could see the beginning of the damage. Trees bent over, missing limbs, workers inspecting power lines, wood chippers hacking away at fallen trees. I walked further to Solomons Island Rd and could see the path of the tornado. A trail was made through the trees from the tornados wake, and it made its way across the busy street to the adjacent neighborhood that was busy with cranes picking up fallen trees and house debris. I went further still and walked the streets of the neighborhood, gingerly stepping over downed trees and house siding. Luckily the houses were only moderately damaged, nothing that a good insurance claim couldn't fix. I did see a trampoline hanging from a tree.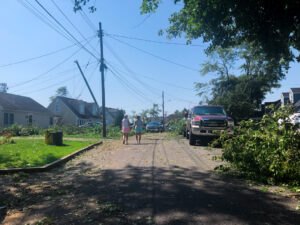 SEPTEMBER 5TH — BOAT. WORK. FILM. LIFE. REPEAT.
Another ordinary work day.
SEPTEMBER 6TH — STRETCHING OUR LEGS IN QUIET WATERS PARK
We woke up to a warm and beautiful morning! Brian took off work for the day, and we took an Uber to the Quiet Waters Park in Annapolis – 340 acre park on the edge of South River. It's always nice to have a chance to disappear under some trees for a while, getting out of the cramped quarters of the boat and marina and stretching our legs. There were wide winding asphalt trails through the woods, We felt happy and refreshed!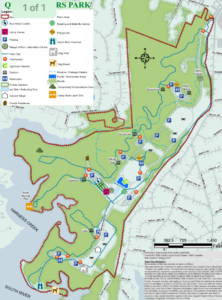 SEPTEMBER 7TH – 22TH — BOAT. WORK. FILM. LIFE. REPEAT
Days spent at the dock while Brian worked for his job, and nights spent enjoying beers on the bow and me winning most games of Uno against Brian. He may say otherwise, but I know who the real Uno master is. We were very excited to have our shirts come in as well, and we couldn't be happier with them! I worked on our website and got our online shop up and running. We also went to Brian's mothers house to begin our "setting up shop" in her spare bedroom, where we folded all the shirts and organized them in bins. Thankful to her for allowing us to set up shop there, and for her to ship shirts out!
SEPTEMBER 23RD — FIRST SALE AND HARPERS FERRY
This morning we mailed out our first two shirt sales! We were a little shocked, but very grateful, that people were buying them. We put a lot of thought and time in to the design and feel of the shirt. We left early this morning to stop by the post office before taking a drive to Harpers Ferry in West Virginia. Our mission today was to hike to the top of the lookout across the river. It was a gorgeous day, and we were happy to be having another day of hiking trails this month. Half way through our hike, however, we were both much more tired than usual. Our leg muscles, sore already. It would seem obvious, but when you live in a small boat, and don't have a car, your body doesn't have to do that much moving. Typically, when we're on anchor, we zoom our dinghy around and take walks on the shore and exercise on the bow's deck when the dinghy is in the water; but at the docks in Annapolis, sometimes the unfortunate daily movement has been from the bed to the table. We hike uphill on the windy trails, surrounded by green, hearing nothing but birds and seeing rolley mountains in the distance – it was beautiful. The trail we hiked is also a part of the Appalachian Trail, and we saw a few people carrying and biking with large hiking packs. The overlock on the trail was breathtakingly gorgeous, as it looked over the town of Harpers Ferry and the conjoining rivers below.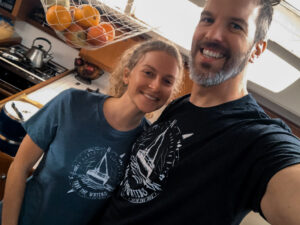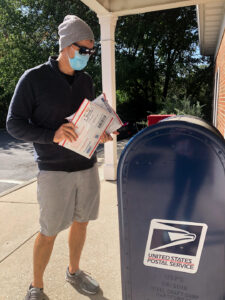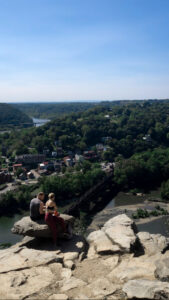 SEPTEMBER 24TH — HIKE TO CHIMNEY ROCK
No matter how sore our legs were from yesterday's hike, we were feeling another day of trails and nature. Today we drove to the Catoctin Moutains and hiked to Chimney Rock. Whereas yesterdays hike was more "manicured" with a smooth dirt trail, this hike was very woodsy with an intensely rocky trail requiring some real hiking shoes. On our hike up we were taken aback by an alarm we heard. It was a mix between an alarm you would imagine to hear for a tornado or a bomb. It echoed against the mountain ridge, and it left us with an eerie, lonely feeling. With no idea what it was for, we speculated it was an alarm for a volunteer fire department, since the area surrounding the trail was a small town. We passed large rock cliffs as tall as two-story buildings, but our first glance of the mountain ridge came when we reached the Chimney Rock overlook itself. What looked like large boulder cairns jutted far out between the trees to create multiple platforms to sit on and stare out into the wilderness. My legs were too short to cross a fissure in the rocks, and I didn't dare jump it as the drop was deep enough for me to ixnay the risk. But Brian jumped it with ease, and went as far out on the rocks as he could while I climbed and stood on a nearby towering rock. We were later joined by another couple, and we chatted for a bit. As the sun was beginning to set, we made our way back down in hopes to make it back to the car before nightfall. Another amazing day playing in the woods.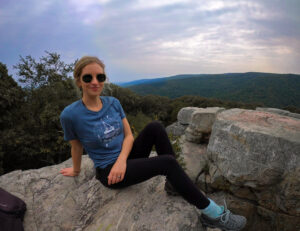 SEPTEMBER 25TH – 30TH — BOAT. WORK. FILM. LIFE. REPEAT.
Back to the boat for us, and back to the grind. Though we did create a new logo that we drew ourselves and had a lot of fun in doing so.