OCTOBER 1ST — FIRST SAIL TO ST. MICHAELS
On a whim, we left. The weather this morning was so beautiful, and we've been feeling so cooped up in the marina for so long, that we cast off our lines and sailed for St. Michaels. We've heard from several friends and people we've met that St. Michaels was a must-visit destination. For us, it is only half a day's sail away. We were able to sail East with full sails as we crossed the Bay from South River to the Eastern Bay/Miles River. Having not sailed for a month, we spent a little more time playing and sailing around with our Spinnaker before we entered the Eastern Bay. We anchored outside of the channel of St. Michaels just before the sunset. With our anchor set, we made ourselves a whiskey drink, neat, and sat on deck to see if we could get a glimpse of the space shuttle launch that was to happen, which was later scrubbed. Instead, we had the beautiful surprise of the massive (almost full) moon that presented itself over the tree tops, with its reflection dancing in the water all the way to our boat's hull.
1,339 NAUTICAL MILES SAILED

OCTOBER 2ND – – – DAY TRIP IN TO ST. MICHAELS
We hopped off the boat, and took our dinghy in to the town of St. Michaels. Simply put, the town is adorable, with its very walkable streets lined with old charming houses and Inn's, and a main street lined with niche shops, restaurants, and a winery, brewery, and distillery all on the same block. We stopped for a late lunch at Hammy's Hideout, which made a delicious spin on Thai Chicken and the rare treat of an adult milkshake… which you bet we got for dessert! Stuffed and happy, we made our way back to the dinghy and to our boat where we hung out for the evening, and again enjoyed the views of the full moon.

OCTOBER 3RD – 4TH – – – ANCHOR HANG AND A ROLLY ANCHORAGE
Still having some work to do, but not wanting to leave the freedom an anchorage brings, we decided to hang out for the weekend in St. Michaels before sailing back to the docks. For the future, might I suggest finding yourself a nice spot closer to the docks in St. Michaels. Being anchored just outside of the channel, and on a weekend, was a recipe for constant wakes of from passing boats. We received a message from a follower on our Instagram page "Take the Waters" that we are very excited about. We talked about the various places to visit by sail in the area, and he gave us amazing recommendations. Brian and I can't wait to create a big sail out of it!

OCTOBER 5TH – – – SAIL BACK TO EDGEWATER
This morning we began our sail back to Edgewater. It was very cold, much colder than it had been the few days prior. We were clad in our offshore sailing gear for warmth, which gives Brian such joy in being able to wear. It was this sail day we realized our wardrobes were strictly for Caribbean weather, and not at all for anything remotely chilly. It was another beautiful sailing day crossing the Bay, headed east for the South River. Unfortunately, we broke our dodger window on the sail back. We had taken our side dodger panels off, and a gust of wind unsnapped the last button on our front left dodger panel, whipping the corner up and knocking with the metal button with such force that it put a huge crack through the glass. We were shocked to say the least; a complete fluke. I taped it back together once we got back to the marina, but our dodger is a site for sore eyes.
1,366 NAUTICAL MILES SAILED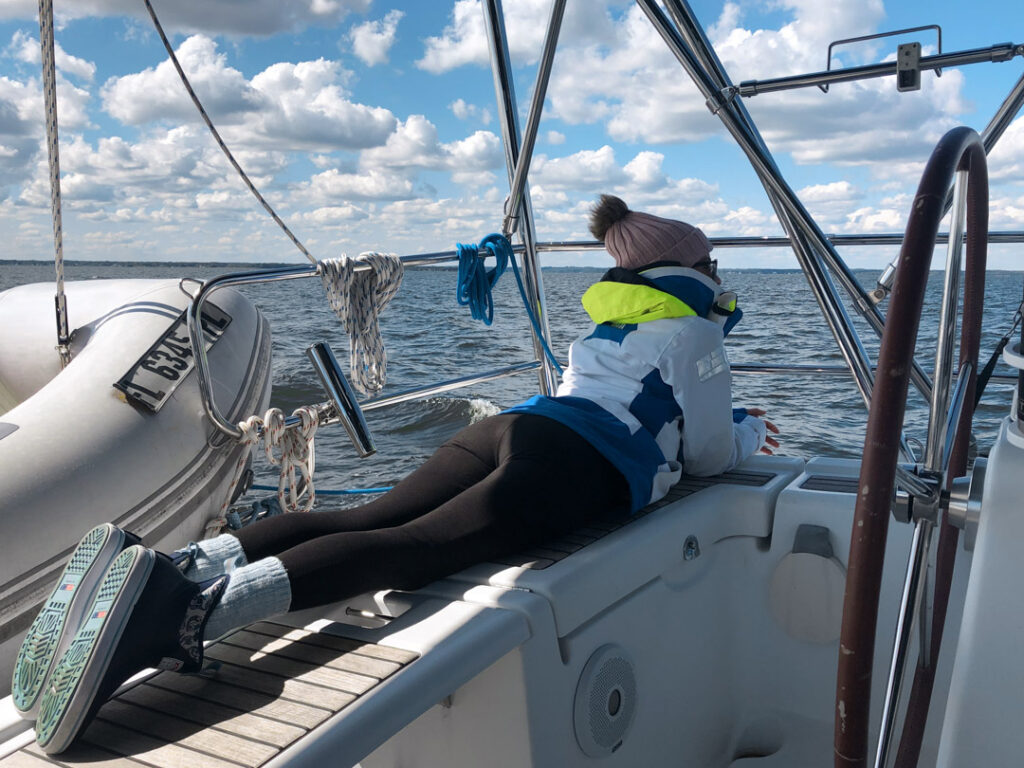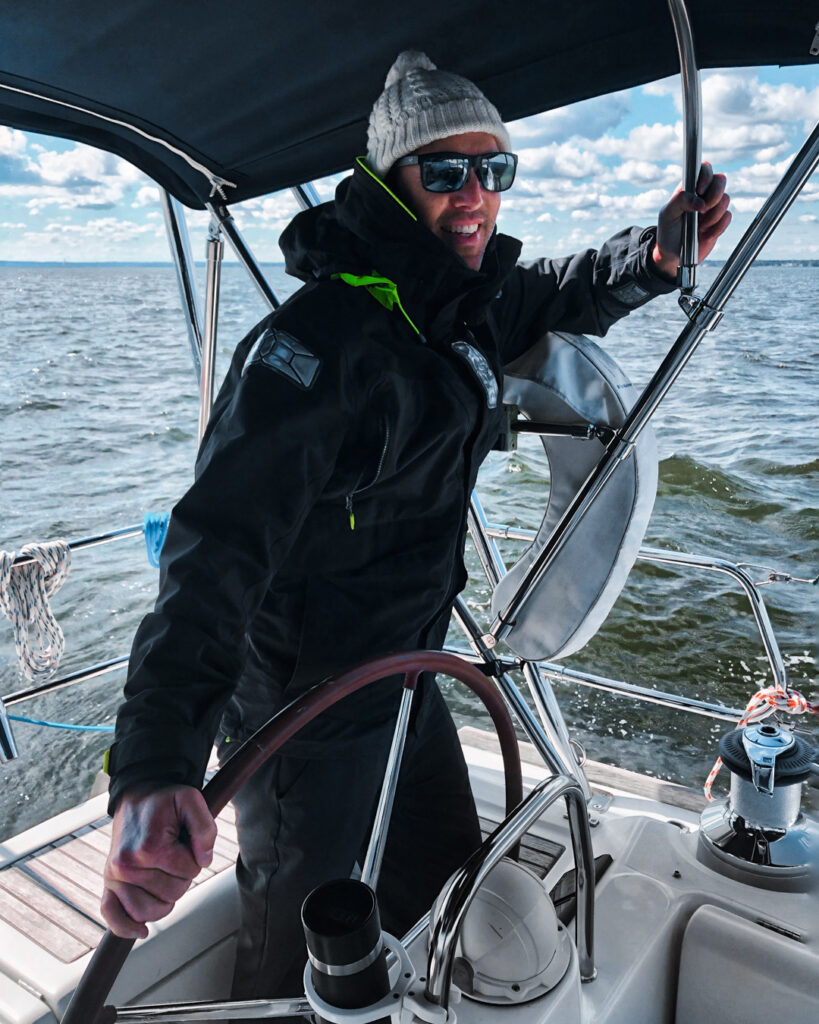 OCTOBER 6TH-9TH – – – WIND TRANSDUCER THAT WORKS AGAIN!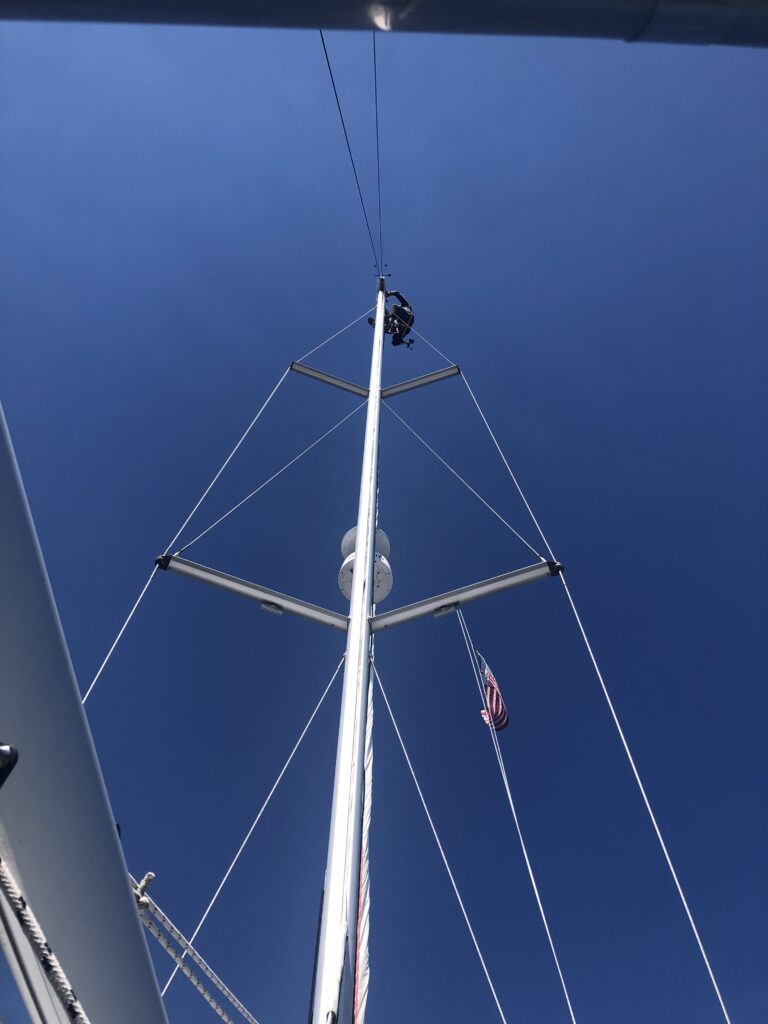 Spent a few days back in the marina, and figuring out the issue with our wind transducer, a top our mast. Since we left Cape Canaveral, we kept having issues with our wind transducer not lasting more than 15 minutes or so each time we turned on our instruments. After a while, it hardly came on at all. While this actually made us read the wind better by reading the water and using our senses instead, we have to admit there is a sense of ease when you have the instrument reassuring you. We've swapped out our transducer with a new one, and our black box, but to no avail. We were worried this would mean we had a bad wire. With no motivation and money to perform another entire demasting to run a new wire, we tried one last thing… cleaning the connector at the top of the mast. It worked!!! We now have a working wind transducer again, and it's a wonderful feeling.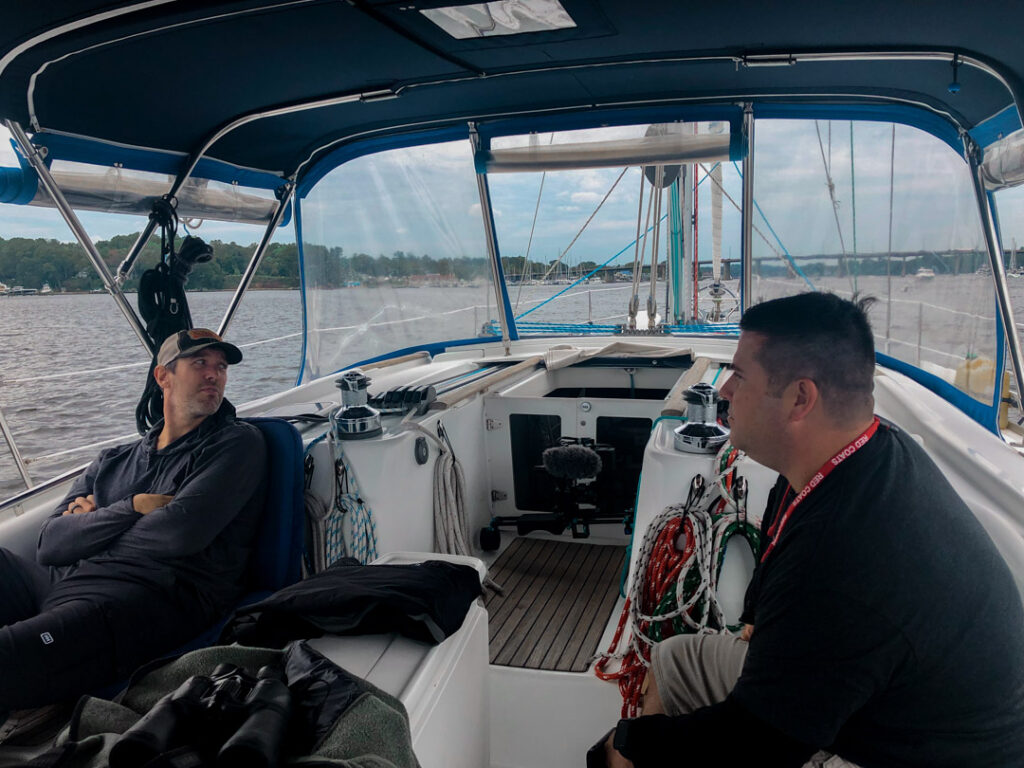 OCTOBER 10TH – – – SAILS & VISITS WITH A FRIEND
Brian's friend since childhood, Travis, lives here in Maryland. We've been wanting to get together with him since we arrived and have a nice day of sailing, but the past months weekend weather was always stormy. Today, it was beautiful! Travis came and sailed with us, and even helped film some scenes for a video we hope to put out soon about sailing our boat "better". The winds were packed full of force today, averaging 18kts, and we played pretty rough as well. We tacked, after tack, after tack, after tack, after tack x10, and did a controlled gybe. Travis had never sailed before, and he tried out a tack as well. Eventually we were exhausted, and rolled back in to our slip. Travis drove us to Annapolis where we had some lunch and brews, and loads of ice cream. It was great sailing and hanging out with friends!
1,393 NAUTICAL MILES SAILED

OCTOBER 11TH-13TH – – – EDGEWATER HANGIN'
Stayed in Edgewater getting work done.

OCTOBER 14TH – – – START OF "TOUR DE BAY!"
This is our last chance to get some good sailing in before we leave. We compiled all the great recommendations that our Instagram follower sent a few weeks back and we created a week's worth of sailing we're calling… Tour de Bay! Original, we know. We gathered enough food for the week and set sail for our first stop… St. Michaels. We really enjoyed the place, and since we never did visit the Maritime Museum, we wanted to give it another go. After anchoring just before sunset, we rode in and had another dinner at Hammy's Hideout.
1,420 NAUTICAL MILES SAILED

OCTOBER 15TH – – – ST. MICHAELS & A VISIT TO THE MARITIME MUSEUM
Upon seeing a spot open up closer to the shore of St. Michaels, we picked up anchor and nestled in a cove near the maritime museum. This we were happy for, since we remembered from the previous visit how many wakes there were on the weekend. Brian's mom, and her friend, came to visit us in St. Michaels and we all met up to have lunch. On our dinghy, we waved to them who were already sitting at The Crab Claw restaurant on the waters edge. We dined and chatted over seafood and drinks before heading over to the maritime museum. The museum was much larger than we expected. Brian and I chatted with a man, Frank, who was working building the Dove – a replication of an all wooden 17th century trading ship. We were too late to be a part of the "apprentice for a day" program, so instead we watched them work in awe. After Darlene and Karen said their goodbyes, we walked to the Eastern Shore Brewery to have a few pints of beer. Their F-Bomb IPA was so good, we bought a whole case of it to take with us!

OCTOBER 16TH – – – MORE MARITIME BEFORE AFTER THE RAIN
We stayed inside and cuddled up to some movies and hot cocoa as there was a heavy downpour for most of the day, which brought with it a serious chill in the air. By late afternoon, the rain had stopped, and we took our dinghy in to give another go at the maritime museum, since the day we before we did not get to see as much as we wanted of it. This museum is well worth the visit!

OCTOBER 17TH – – – ON TO WYE RIVER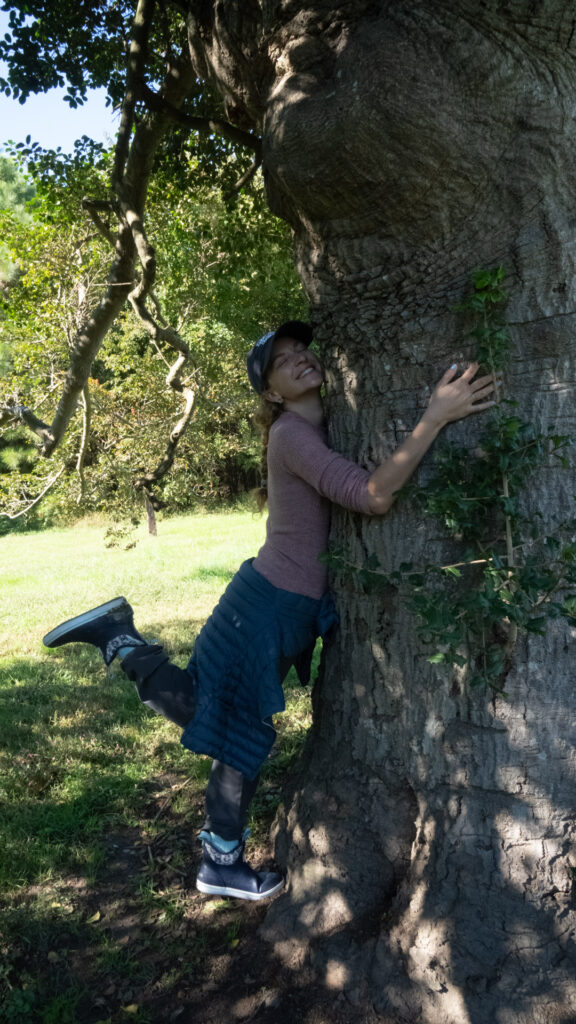 We left St. Michaels this morning to head a little north, on a mission to the Wye River, where we would squeeze our self in to the Dividing Creek. We anchored in the most secluded, beautiful, and sweetest river we may have ever seen. We took our dinghy to the farthest reach of the river and found a tree stump to tie our dinghy to. From our research, it was a great area to hike, and it did not disappoint. The Wye Island Natural Resources Management Area was so large, we could only get one trail in before we had to head back.
1,427 NAUTICAL MILES SAILED

OCTOBER 18TH – – – THE WALKS OF WYE ISLAND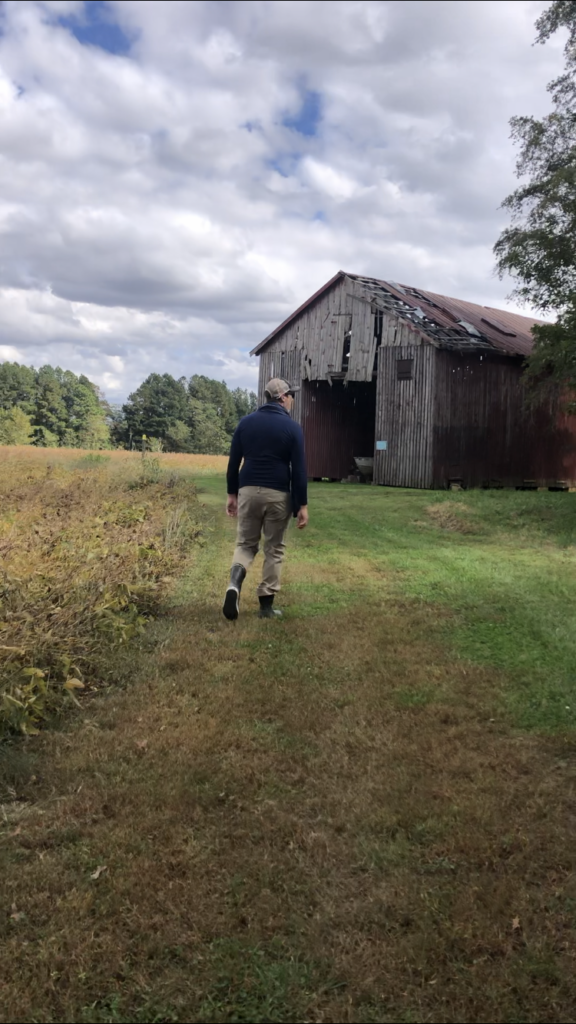 We decided to spend another day in the Wye River, instead of going south to Choptank. The much preferred the wilderness than visiting another town at the time, so we stayed and relished it. We woke up early and got dressed to explore more of Wye Island. The majority of the day, from morning to sunset, was spent walking the trails on the island. It was amazing to see so many different landscapes in one place. From farmland, where we walked near vast fields of corn and soybeans, to large open meadows, to thick wooded pine lined trails. Eventually our feet and legs were exhausted, twitching muscles and sore toes – this is what happens when most of your movements are confined in a small space. We made it back to our boat before sunset where we had an F-Bomb and had so much fun bird watching. Our cell phones had no service, and neither of us were in the mood for working on anything, which created such a rare experience for us, yet something we've been striving for. This day was so spent in the moment, enjoying nature and playing within it, that we reveled in the fact that we were drawing pictures of trees just so we could explain to each other where a cool bird was hiding. By far one of our favorite days and places to anchor!

OCTOBER 19TH – – – SAILING TO ANNAPOLIS ON OUR 1ST YEAR ANNIVERSARY
Today is our one-year anniversary! Brian jokes and says it feels more like our 11th year of marriage… but I suppose that's what living in small quarters with your spouse ends of feeling like. But I will say, I would do another 11. Even though we had said we would not buy anything extravagant for our anniversary, since most of our money has gone in to our boat and this trip, he did still surprise me with a gift. While we were in St. Michaels, we had walked past a jewelry shop window. I saw a jellyfish necklace that I liked, but the store was closed. Brian told his mom about it, and had her get the necklace for him before we met up for lunch in St. Michaels. It was a very sweet surprise. We got ready to sail to Annapolis, our next stop on Tour de Bay. We were going to have another go for Choptank, but the wind just wasn't right for it and since we decided to stay an extra day in the Wye River, we really didn't have enough time left. I came out with my wedding dress on, because I figured why the hell not, and sailed across the Chesapeake Bay in it! Okay, maybe just halfway… turns out sailing in a wedding dress is not easy. We arrived in Annapolis again just before sundown, where we picked up a mooring ball in the field just in front of the downtown docks. We dinghied in and gorged ourselves on sushi, ramen noodles, and ice cream!
1,455 NAUTICAL MILES SAILED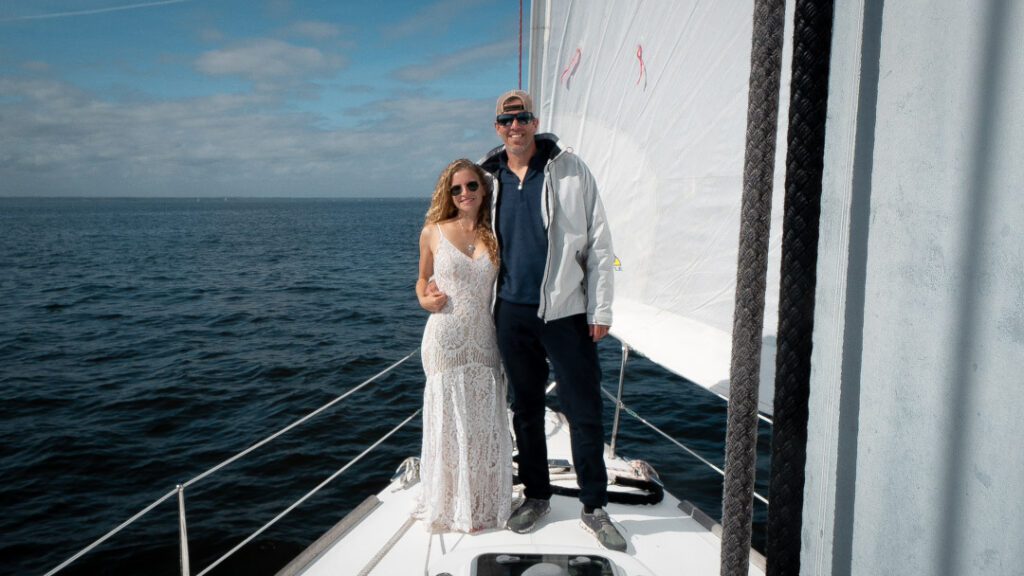 OCTOBER 20TH – – – DAY IN ANNAPOLIS
The morning was so foggy, we could barely see past the closest boats to us in the mooring field. Once the fog dissipated, later in the afternoon, we took the dinghy back in to town. Having been to Annapolis a few times already, they're wasn't too much more to see. Plus, a lot of shops, restaurants, and attractions seem to be closed on Monday's and Tuesday's – even places to get crabs. So, we did a quick walk about the area, and made a game of seeing how many Maryland flags, crabs, and anchors we could spot from the streets.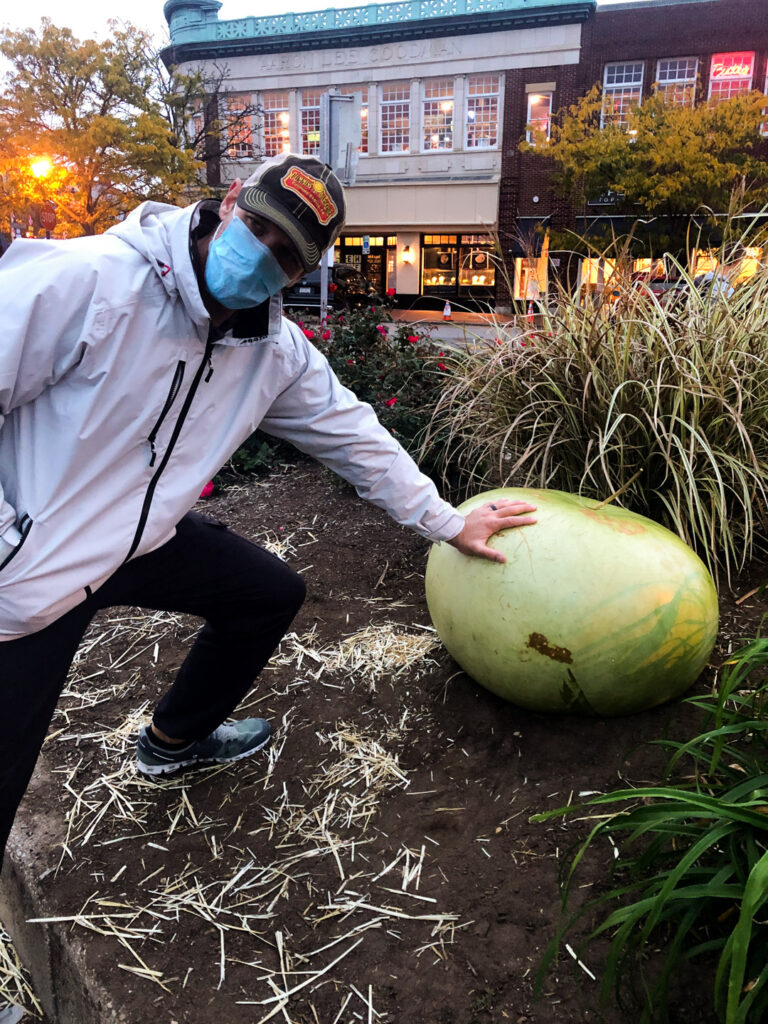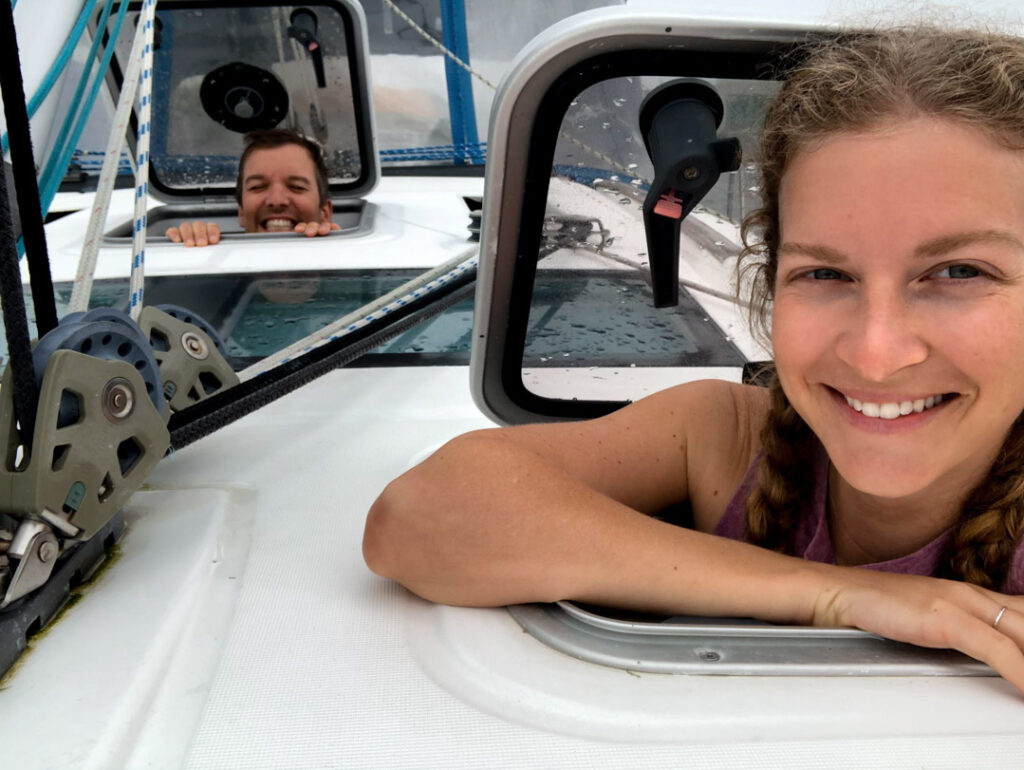 OCTOBER 21ST – – – SAIL TO ROCK HALL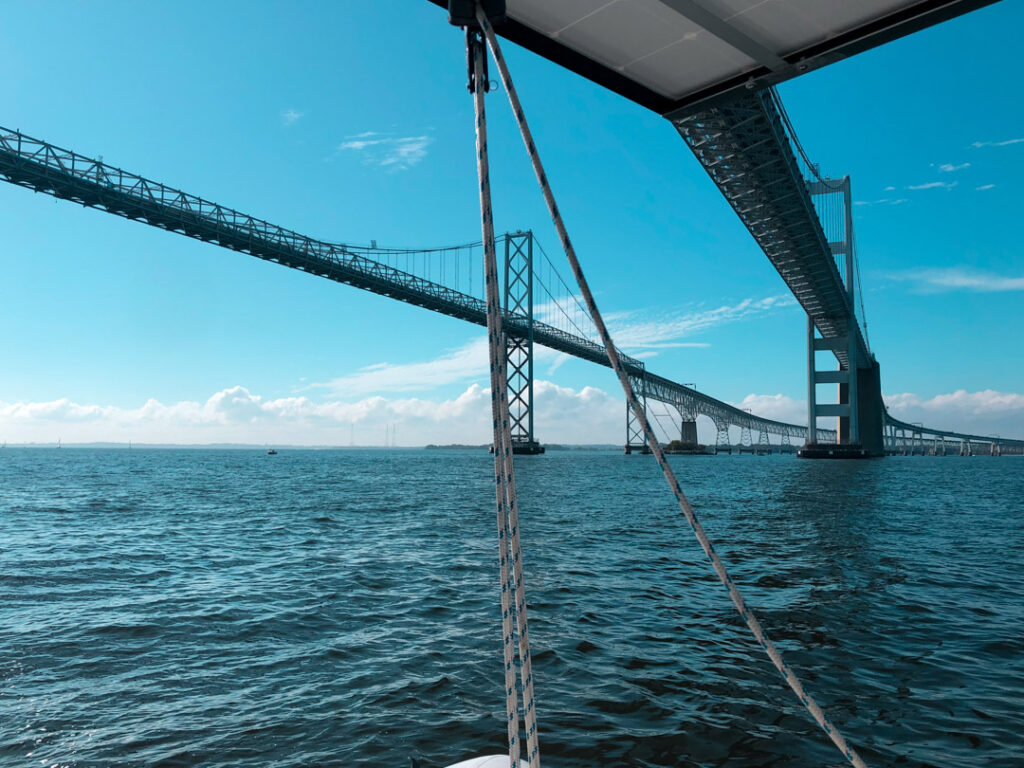 Once the morning fog dissipated around 11am, we left our mooring to sail to Rock Hall. It was still a grey and dreary day, with limited visibility. The seas were a little choppy, but we had good wind. That is, all until we reached the Bay Bridge. The fog fell back, the sun came out, the seas calmed down, and the wind completely disappeared. We motored the rest of the way until we came to the narrow entrance of Swan Creek. We arrived late in the afternoon, and the Swan Creek Marina had closed for the day; so we left a message with the office and picked up an empty mooring ball. We passed the harbor for Rock Hall on the way to the creek and saw quiet a lot of lights in waterfront restaurants around the harbor. Hungry, and not in the mood for cooking, we took our dinghy out in hopes to find some crabs. Unfortunately, there weren't enough crabs available, but we did have a nice dinner at the Waterman's Crab House.
1,474 NAUTICAL MILES SAILED

OCTOBER 22ND – – – BIKING AROUND ROCK HALL
We woke up early to make our way to the marina and pay for the stay on the mooring ball. It was a small and quaint marina office, run by the nicest family, whom we spoke with at length throughout the day. The marina had a ton of nice quality bikes patrons could take for free and cruise around town. Having already brought our scooters with us, we rode them first to check out the town. Rock Hall to us seemed a really sweet, quiet town. The neighborhoods were thick with roads, and the nice cottage homes we ourselves enjoy. Recess was in session at the local school, and it was a surprisingly nice change to hear children having fun playing – something you don't hear at all when you sail on a boat. In town, there was a village of shops that Brian and I loved the idea of. A plot of land with small "tiny house" style buildings, with winding gravel walkways, all surrounded by a white picket fence. The idea was to create a community of shops, all in one spot. To us, it was an awesome idea. Ice creams, realty, computer repair, antiques, all in a nice place to walk around without having unnecessarily large buildings. We sipped coffee outside while the church bells rang beside us. I eventually convinced Brian to swap our scooters for bikes and continue riding around and move our legs a bit. We rode until late afternoon, when we rode back to our boat once more.

OCTOBER 23RD – – – END OF TOUR DE BAY
It seems every morning is thick with fog these days. Just before noon, we had enough visibility to where we felt comfortable in sailing off. The winds were low, and coming from an unfavorable direction for us to sail, so we had to motor back to the Pier 7 Marina in Edgewater. Our self-proclaimed "Tour de Bay" had come to an end. We had more things to take care of before we begin our sail south, but we're savoring these recent days being out on anchor!
1,500 NAUTICAL MILES SAILED

OCTOBER 24TH-27TH – – – SELLING DINGHY'S & TAKEN CARE O' BUSINESS
Spent these days taking care of planning our upcoming days and stocking up on items before we head south. Since our outboard motor was too big for our dinghy, and now that we have extra crew coming aboard, we decided to sell our dinghy and get a larger one. Our new dinghy is down in Florida, so we're taking a little road trip shortly to pick her up.

OCTOBER 28TH – – – GOODBYE EDGEWATER
Today marks our last day at Pier 7 Marina. A nice enough place, but I'm not sure we'll be back to this particular marina. We gathered up all of our lines and left early this morning to head to the next river just south of us, the West River, and get hauled out at the Galesville Yacht Yard. Our boat was hauled, and the sleuth of barnacles scrapped off the bottom before being blocked in the yard. We gathered all of our things, and Brian's mom came and picked us up.
1,510 NAUTICAL MILES SAILED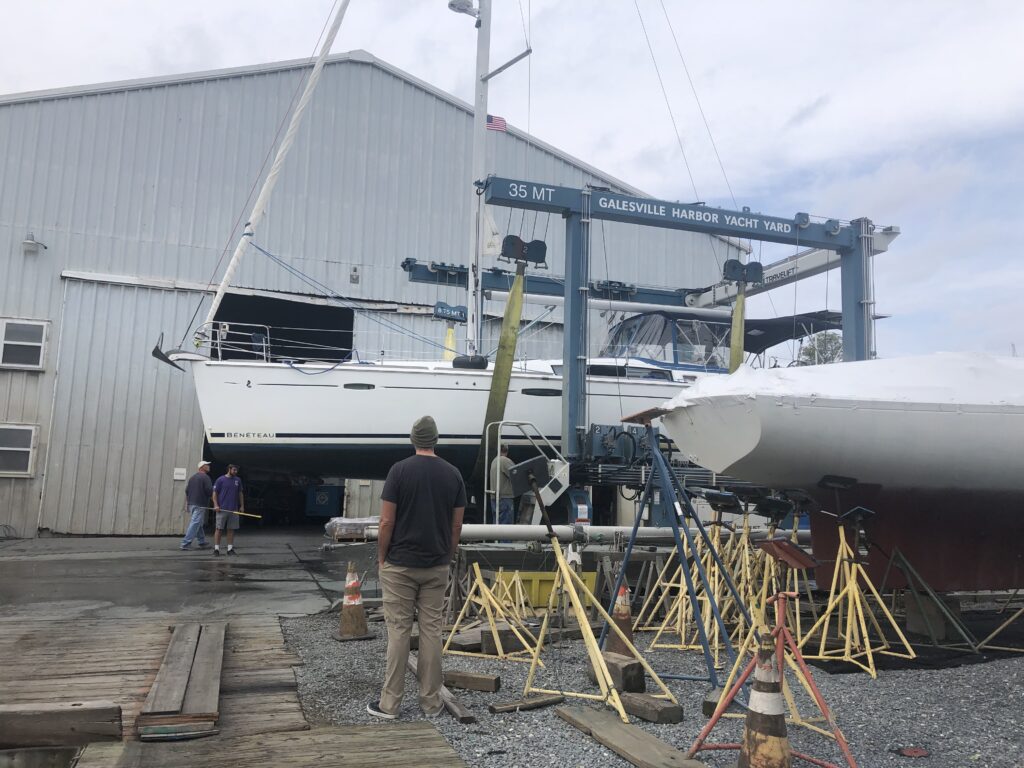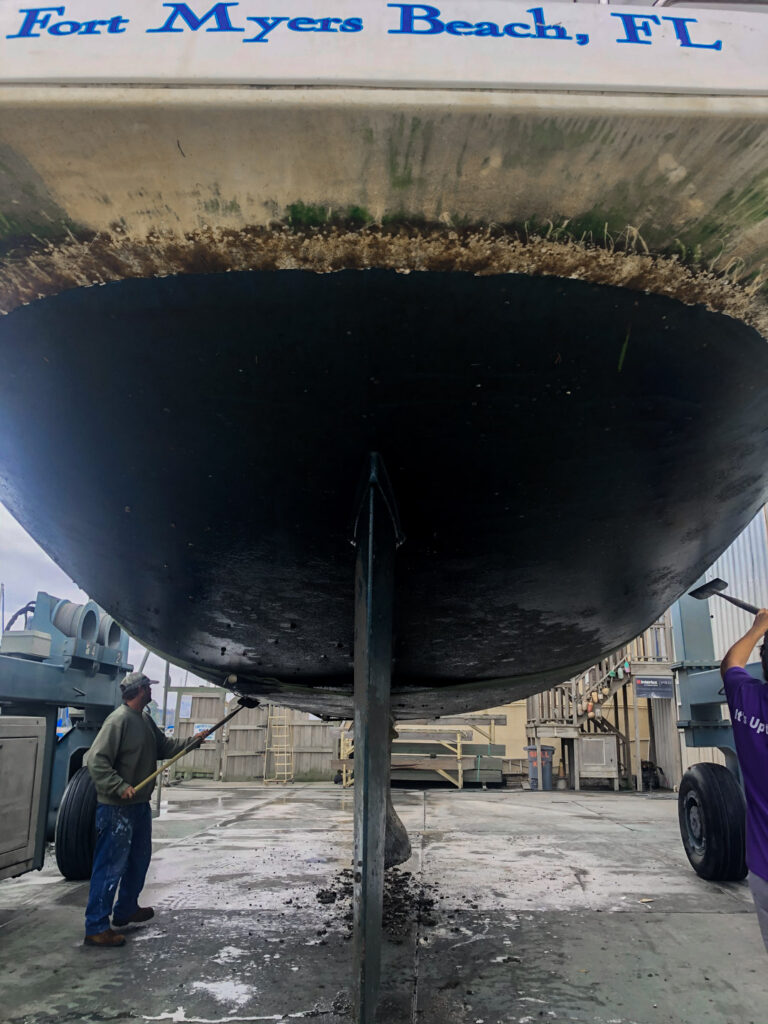 OCTOBER 29TH – – – FLORIDA ROAD TRIP
We left Maryland very early in the morning to avoid the DC traffic, and drove straight through to Orlando, Florida. But, we did grab an hour nap in a random parking lot around 8am. Brian's mom let us borrow her car instead of having us rent one, which was amazing and we were very grateful for that! We were lucky to have outrun the rain coming from one of the latest hurricanes the entire day. We arrived to my parent's house around 7pm, and it was nice to see them, my cat Obi, and feel some hot weather again.

OCTOBER 30TH – – – NEW DINGHY & A BIRTHDAY
We rode out to Cape Canaveral where we picked up our dinghy from Lifeline Marine Safety Services Inc.; Gator is very helpful and friendly. We love our new dinghy and can't wait to take her for a spin! They deflated the dinghy so we could fit it in to the back of the jeep (yes, we'll be driving 900+ miles with our hatch open). Later in the evening we had a small family gathering to celebrate my dad's birthday! I was so happy to be able to be here and be a part of that.

OCTOBER 31ST – – – HALLOWEEN IN FLORIDA
Today we spent in Florida to have a full day of spending some time with my parents (and, let's not kid, my cat) before we left again. I dressed up as a Pirate…. You know, because it was Halloween. We packed up the car for an early start back to Maryland tomorrow morning.