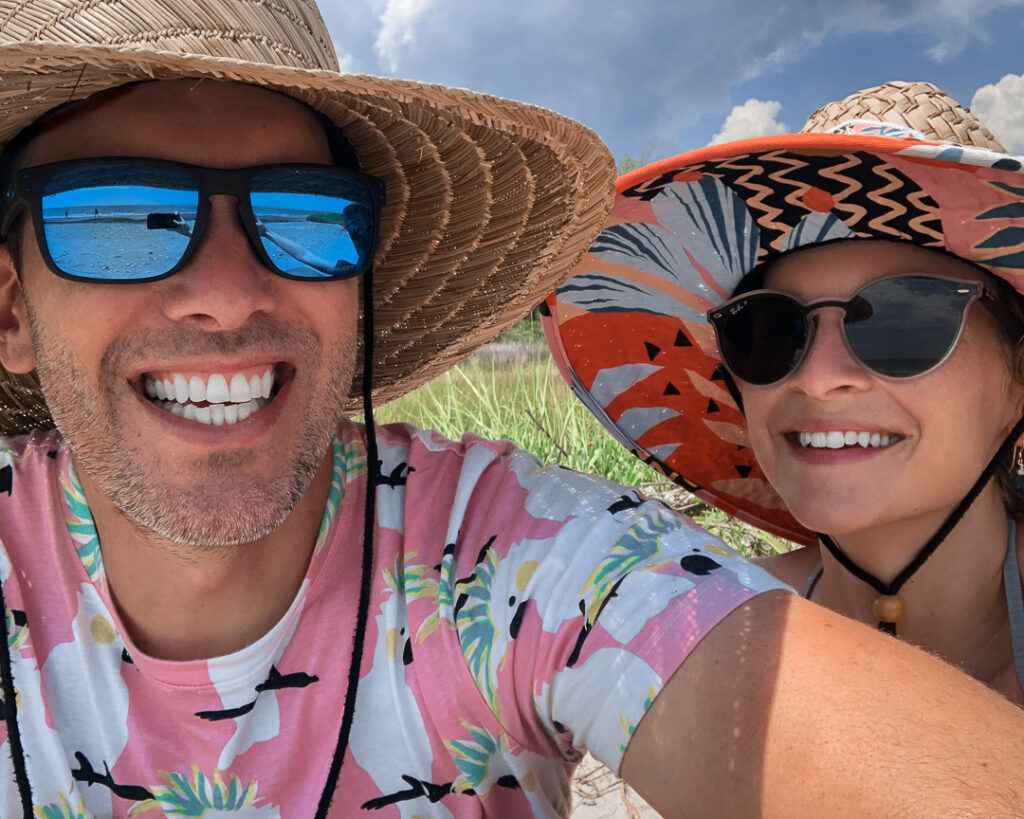 JUNE 1 – JUNE 23, 2020 – – – DOCKED AT CHARLESTON MARINA
We stuck around at Charleston Harbor Marina, and had a great time visiting local beaches, trails, and the USS Yorktown at Patriots Point. We were visited by our parents, a few days each – and it was lovely to see them. The restaurants were delicious, and we were happy to see so many with newly structured outside seating to slow the spread of COVID-19. Vicious Biscuit – a restaurant with the best biscuits we have ever had – was our go to multiple times a week.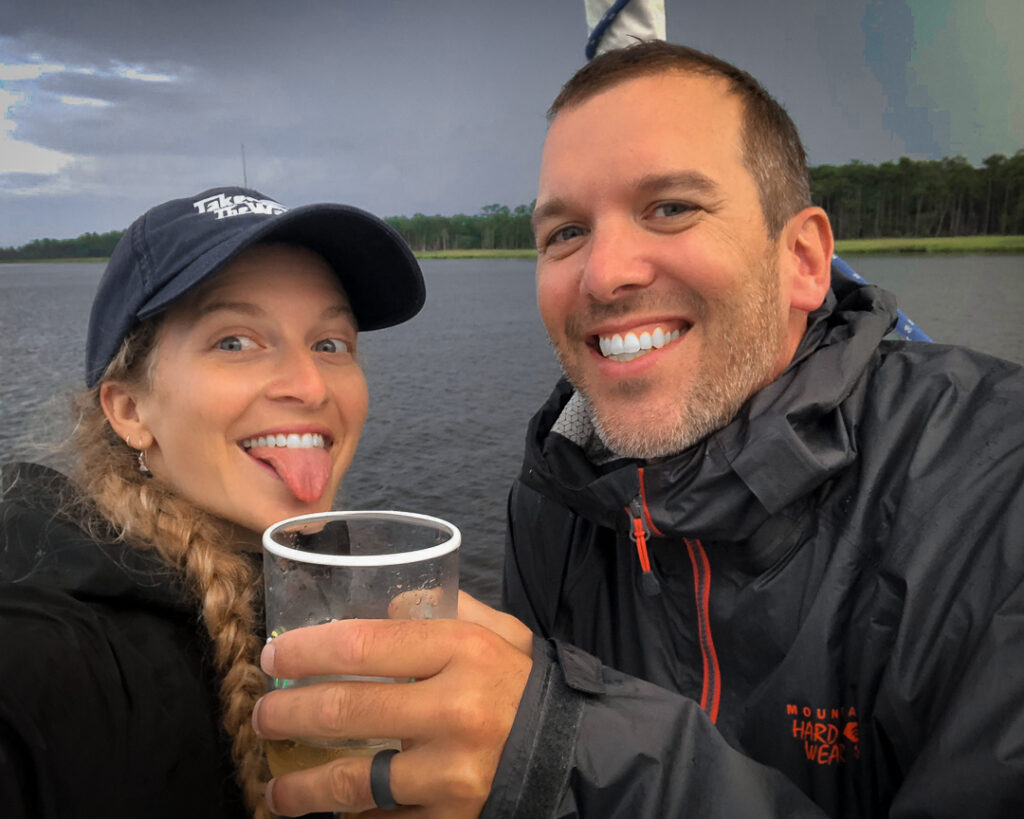 JUNE 24, 2020 – – – SAIL FROM CHARLESTON TO WINYAH BAY
Our transient time was up at Charleston Harbor Marina. We would leave this day either way, come good weather or bad. Good weather, we would make an ocean sail to Winyah Bay/Georgetown; bad weather, we would motor up the ICW. Luckily, the winds and waves were predicted to be in our favor, with a small chance of rain in the evening. The wind and waves were coming from the WSW, and we had 2-4 feet following seas! Half way through the day, the wind died down to merely nothing, and we were forced to motor in time to make it to Winyah Bay's channel on their flood current and incoming tide. Once we could see the buoys for the channel, the cumulous clouds that had been stacking up over Winyah were now black clouds, with lightening. We could see gray rain in the distance. The radar showed the storm moving east, out in to the ocean towards us. We decided to move straight east as well, to allow the storm to get its initial wind and rain out of the way, and we would head back toward the channel when it, hopefully, calmed down. The sea became like a washing machine, and lightening was everywhere in the distance. Luckily, just like we had hoped, by the time we were making our way towards the channel again, the wind had died down some (around 25 knot gusts) and the clouds were breaking up over Winyah. The entrance was wide, beautiful– aside from the horseflies obsessed with our bimini – and lined with beaches and tall jungle like oaks and pines. There was no construction anywhere to be seen, and it was truly the most beautiful, rural place we had ever taken our boat through. We anchored on the western channel, just before the ICW cuts in to the bay. We later spoke of how neither one of us were as scared or worried of being in a storm as the last time we were caught in one. I was afraid of being struck by lightening, of course, but the waves, wind, and rain itself were no longer the forefront of fear in me. With time and familiarity comes confidence.
751 NAUTICAL MILES SAILED
JUNE 25, 2020 – – – WINYAH BAY ANCHORAGE
The anchorage was proving to remain breathtakingly quiet and serene, and we decided to stay put another day to relax and enjoy.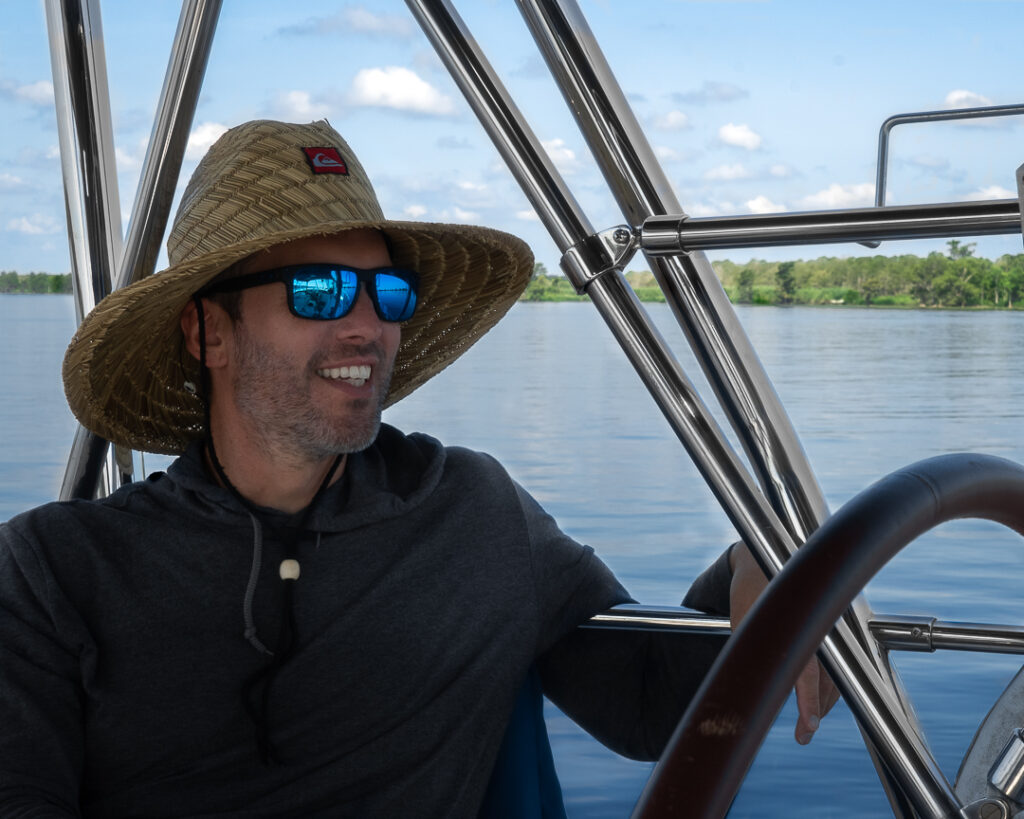 JUNE 26, 2020 – – – SAIL FROM WINYAH BAY TO WACCAMAW ANCHORAGE
We left Winyah Bay, and traveled north along the ICW. The views were spectacular! The channel was mostly rural, lined with trees for most of the way. Every now and then a collection of houses nestled in the woods would appear, and silently disappear. The water was a clear brown, like tea. We were surprised, and slightly annoyed, at that amount of jet ski's in the area as we traveled closer to our evening's destination. We arrived around 2pm to our anchorage on the Waccamaw River, at the oxbow, a sweet little loop the river makes, and is surrounded by tall protective trees. We were approached by a couple on a jet ski, and enjoyed a conversation with them over the water.
782 NAUTICAL MILES SAILED
JUNE 27, 2020 – – – SAIL FROM WACCAMAW ANCHORAGE TO MYRTLE BEACH
We woke up early the next morning, pulled up anchor, and continued heading north on the ICW. Our afternoon's destination was the Myrtle Beach Yacht Club marina. We chose to have todays shorter day trip from Waccamaw, and overnight in a Myrtle Beach transient slip, because there are no good areas to anchor between Winyah and Cape Fear. The days travel was not as scenic as the previous days, unfortunately. Much of the water way was lined with massive homes, new construction, and hardly any trees in sight. Again, we were met with an ungodly amount of jet skiers, also known as water hornets. The Myrtle Beach Yacht Club proved to be an excellent place to stop for the evening, and we enjoyed a little chat with our neighboring sailor when we pulled in to the docks.
808 NAUTICAL MILES SAILED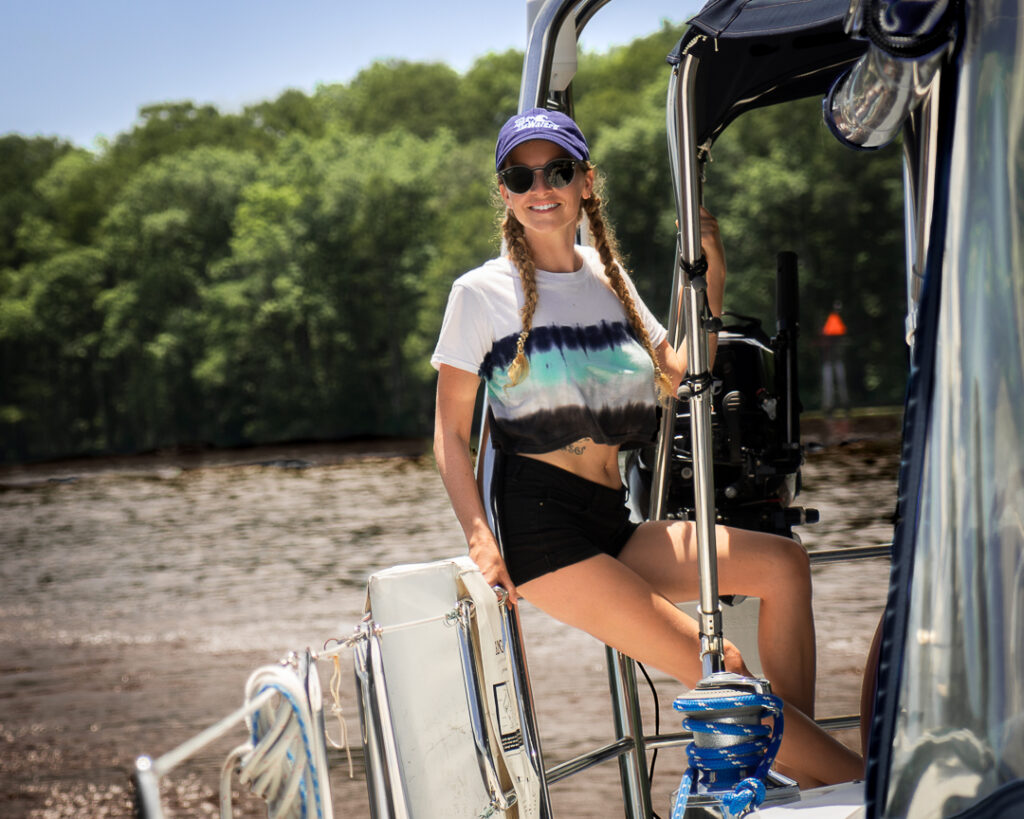 JUNE 28, 2020 – – – SAIL FROM MYRTLE BEACH TO CAPE FEAR
Today was what we had been calling "the shallow day". We knew this leg of the trip was when we would begin to see much more shallow water. And indeed, we had an estimated average of 10ft depth all day. By 7:15am we were up and ready to sail. Brian typically takes the boat in and out of slips, but we are working on getting my confidence level up, and I took the boat out of the slip this morning! Not only this, but it was the first time I oversaw the full sailing day – from routing, to leaving the marina, to captaining through the ICW, to taking us to our mooring ball. Just as suspected, we had a stressful day in dealing with shoaling. Luckily, we never hit one, but we did some off-chart maneuvering to avoid them – especially near the inlets we passed. Once we rounded the red marker, in to the massive Cape Fear inlet, the current was ripping at about 3 ½ knots, and our speed was 10 knots at 2000rpm's. A massive cargo ship, 800 feet long, was hailing over VHF that they were coming in – so we were trying to keep our speed up as to not have to deal with getting out of their way when they neared. We entered Snow's Cut before the tanker closed in. We dealt with a few more off-chart maneuvering due to shoals, but were soon in our mooring field.
853 NAUTICAL MILES SAILED
JUNE 29 – JUNE 30, 2020 – – – MOORED IN CAROLINA BEACH
We spent the days wrapping up the editing for Episode 4, and filmed our first tech video for our Patreon page. In the evenings, we took the dinghy to the free dinghy dock, and enjoyed some fun and some runs along the beach.