by Mandi Sorg
JULY 1ST – JULY 4TH, 2020 – – – MOORED AT CAROLINA BEACH
We were going to leave Carolina Beach after a few days at the mooring field, but decided to stay until the 4th of July passed. Being in the mooring field for Independence Day allowed you to have a 360 view of fireworks while on the water.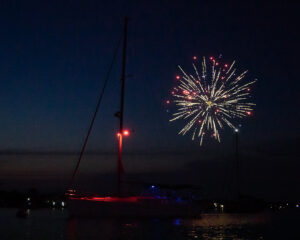 JULY 5TH, 2020 – – – ANCHORED AT WRIGHTSVILLE BEACH
We left the mooring field this morning and headed north to Wrightsville Beach. Through research we learned that this area is not a place to travel if you are not a fan of whizzing weekend power boaters. Our time at the mooring field was up, but we were not ready to travel far up the ICW due to this. We found a nearby anchorage, less than 10nm's away, and decided to stay here for the day to wait out the weekend. We also agreed that if the weather the next day looked favorable, we would ocean sail to Beaufort, North Carolina instead.
863 NAUTICAL MILES SAILED
JULY 6TH, 2020 – – – OCEAN SAIL TO BEAUFORT, NC

The weather looked favorable enough to take the ocean route to Beaufort, North Carolina. By doing this sail, we knocked out spending two days motoring through the ICW to get to the same destination. There was hardly anyone wind the entire day, and were only able to pull our sails in the morning. The seas were very calm, and overall had a very pleasurable sailing day. In fact, the weather looked so calm (albeit not much wind) for the next few days, that we highly considered going around Cape Hatteras, and ocean sail to Chesapeake Bay. After looking and approving of local weather, we looked what was happening farther out to find a tropical system was headed straight for the Carolina's. Highly disappointed, we decided to stick to our original plan and arrive in Beaufort. Here we would wait out the storm instead of risk it in the ocean. We've gone through one tropical storm in the open water, and we don't need to purposefully put ourselves in that situation again. The anchorage we had picked in Beaufort was full of derelict boats, with not much room for us to anchor. We got a last minute transient spot on the T-head at Town Creek Marina. Daniel waited up for us and helped with our lines as we arrived – a very nice man.
932 NAUTICAL MILES SAILED
JULY 7TH – JULY 12TH 2020 – – – DOCKED AT TOWN CREEK MARINA & A BOAT CRASH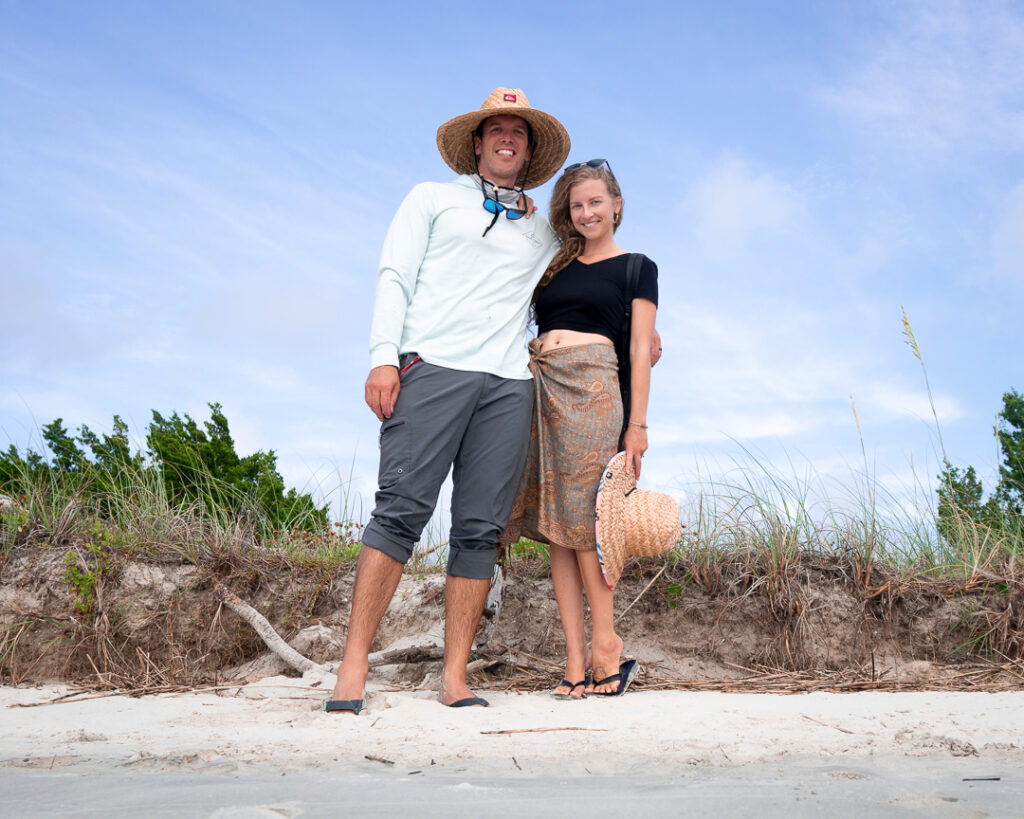 We decided to stay docked at Town Creek Marina. We had a lot of open-ended projects we wanted to finish up, and you can never take for granted a marina with great working WiFi! On the 8th, the tropical system was officially named Tropical Storm Fay, and passed over us while we were tied to the dock; luckily the storm only brought rain – but better safe than sorry. On the 10th a catamaran hit our boat while we were still tied on the T-head. The operator didn't seem to care in the slightest, and in fact his first words when we came out on deck were "there's no damage", and headed straight for the fuel dock where he was more concerned with filling his tanks with fuel than talking with us about the accident. Damage was made to the outside hull, and our forward cabin's cabinets were damaged and the blunt force of the impact ripped them off the wall about 4 inches. We were able to hike Horse Island, a nearby island where wild horses roam, though we never did get a glimpse of them. We also had a welcoming surprise visit by friends we met at a previous marina.
JULY 13TH, 2020 – – – TERRIFYING LIGHTENING STORM
We left Town Creek Marina, and headed north on the ICW. It was a beautiful day, and the sounds of North Carolina are so vast, it looks like you're sailing in the ocean. Once we were coming in from the sound, towards Goose Creek, where are evening anchorage would be, we saw a wall of black clouds. We heard many warnings of severe thunderstorms over the VHF from the coastguard for the local area. The rain became so intense that we could hardly see the bow. Lightening came and was RIGHT ON TOP OF US. Neither one of us had been in such close proximity to lightening before. The clapping thunder happened simultaneously with the flash of light. We took our iPad down to the companionway stairs and "manned the helm" from here, watching our radar to make sure our autopilot wasn't taking us in to anything or anyone. By the time we were inside of the creek, the storm and lightening were only getting worse. Each lightning and thunder clap issued a scream from me, uncontrollably. We passed by R E Mayo Docks, an unassuming dock wall on the side of the creek. I quickly called them over the phone and asked if we could tie up until the storm passed. The woman agreed, but assured there would be no one out there to help us. Brian went to the wheel and turned the boat around as fast as he could and put us right to the dock with utter perfection. He threw the lines out around the pilings while I turned off the power from below deck. I came up on deck right as Brian was finished tying up and lightning struck a piling right next to our boat, and Brian leapt in head first in to the cockpit. We went downstairs and huddled away from metal until the storm passed, about an hour later. We untied the lines, and decided to go a few more hours to the next optional marina, to be as far north as we could go for the night. This has been by far the most terrifying experience we've had while sailing. It was a pleasant anchorage, with no one else anchored, and I saw my first large jellyfish of the trip.
1,009 NAUTICAL MILES SAILED

JULY 14TH, 2020 – – – DAY SAIL TO KITTY HAWK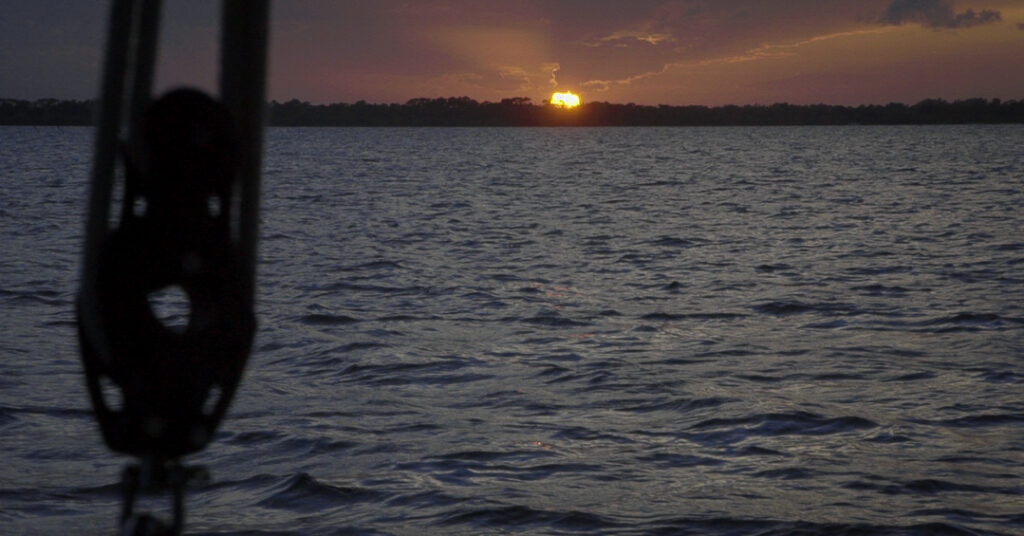 We left the anchorage early in the morning, to continue on north through the ICW, with our destination being an anchorage near Kitty Hawk. We had a known major concern we would be dealing with early in the morning – the Wilkerson Creek Bridge. Most fixed bridges along the ICW have a height of 65ft. The Wilkerson Creek Bridge has a questionable fixed height of 64ft. Our mast is roughly 63ft, 7inches… very much pushing it to pass under such a bridge. Take in to consideration the recent rain the area has had, and a waterway with negligible tides, and you can understand our concern. Happy to report we passed under with barely any speed at all, and made it under the bridge without incident. It was a very easy passage through Alligator River, with serene, beautiful, and quiet surroundings. We saw an adult black bear in the river, which we believe was wading through the river to get to the other bank, as well as many deer and fawns. There was a small storm in the afternoon, but did not pose much of a risk to us. We were anchored by 6pm. Later in the evening, we were approached by a small boat, with what we assume to be people who have had too much drink, as they were laughing and asking us if we had "any yellow mustard… we don't need that grey poupon." We took it as a joke for our Beneteau boat being anchored in their turf.

1,081 NAUTICAL MILES SAILED

JULY 15TH, 2020 – – – ARRIVAL TO MILE MARKER ZERO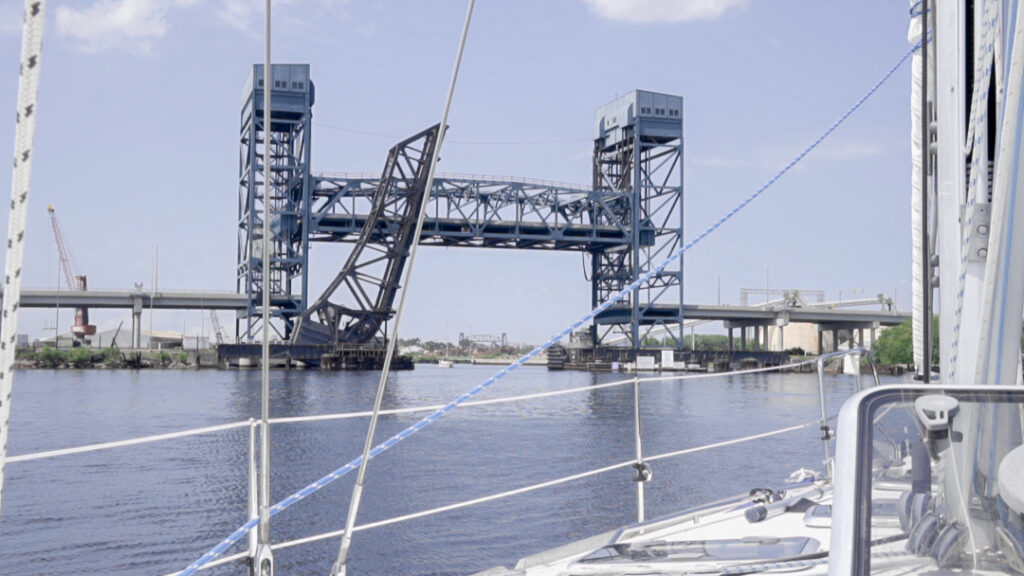 We left the anchorage at nearly 5:30am. It was a relatively short day, with many bridges, including two more 64ft bridges, which we passed with no issues. Coming in to Norfolk was surprisingly quiet. With what we had read, we imagined to be a very busy port, especially with the military. There was no movement on the water – it was almost as though we had it all to ourselves. It was a sight to see, sailing by large destroyers and other Navy ships. We anchored just south of hospital point, around 4:30pm.
1,134 NAUTICAL MILES SAILED

JULY 16TH, 2020 – – – ENTERING THE CHESAPEAKE BAY
Left Norfolk anchorage in morning. It was a quiet morning, and again were surprised at how little boats we saw. A submarine came out behind us, but we left at the perfect time where we never had to dodge it. It was the most beautiful sailing day we had in a very long time, with 15 knot winds coming from the East. We sailed at a speed of 8 knots from 7am to 3pm, then the wind died down and we had to motor sail the rest of the way. We have officially discovered that our headsail does not like sailing fully extended past 130 apparent wind degree. We found a beautiful spot to anchor in mills creek, a good halfway point from Norfolk to Annapolis.
1,199 NAUTICAL MILES SAILED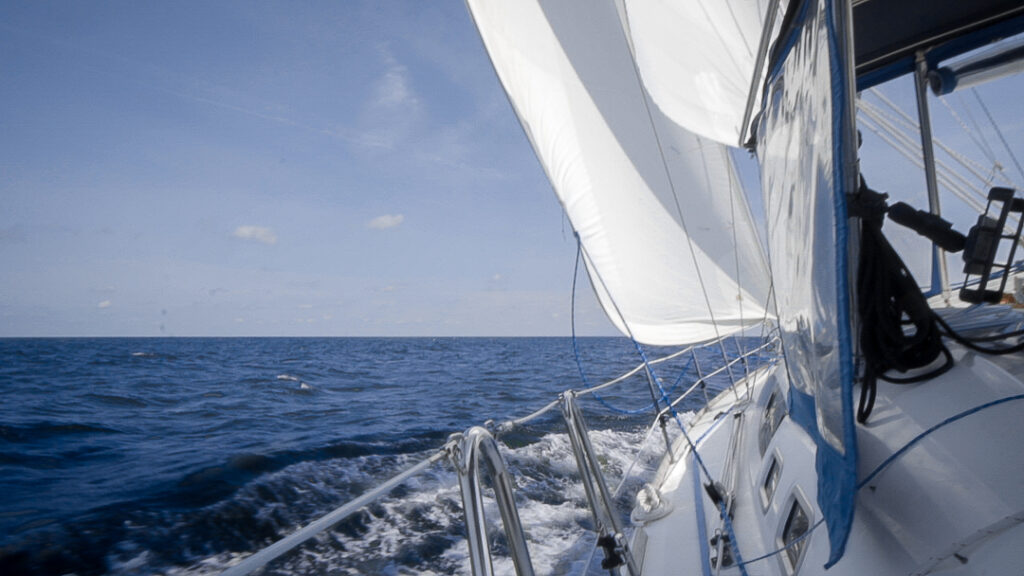 JULY 17TH, 2020 – – – ANCHORED IN MILLS CREEK

We stayed anchored in mills creek. We did initially leave early in the morning, but once we got out in to the bay, and past the hills of tree's, we saw dark clouds on the horizon and turned back and reanchored in the same place. Strangely enough, the weather did not reflect what the clouds suggested outside. We worked on creative projects. A lightning storm came and lingered at 4pm, lasting until 6pm. We closed the ports, unplugged all power, and sat in back cabin in sweltering heat for hours. But we were happy to not be stuck sailing through it.
1,280 NAUTICAL MILES SAILED
JULY 18TH, 2020 – – – ARRIVED TO ANNAPOLIS

We left the Mills Creek anchorage at 6am. We had completely flat, glassy seas, and the wind was light and dead on our nose. We passed military ships that are used for bombing practice; that was neat and ominous to see. We made it to the marina by 6pm, and just as we were reversing in to our slip we realized we would have to take our dinghy down from the arch's dinghy davits. After bobbing in the river and taking down our dinghy and strapping it on deck, we backed in to the slip and had a little celebration of finally arriving to Annapolis. It wasn't much of a celebration. We were tired, and surprisingly not in the greatest spirits.
JULY 19TH, 2020 – – – CRAB FEAST
We visited Brian's family, who live in Maryland, and I experienced my first crab feast!
JULY 20TH, 2020 – – – CUNNINGHAM FALLS
Seriously considered buying a car to have while we're here, and sell when we leave, but eventually decided against it. We took the rental to Cunningham Falls. We hiked up the mountain to the falls, then walked up the rocky cliff and sat in a waterfall pool. It was absolutely beautiful. We did our last loads of laundry that night at Brian's mom's house, and then came back to the boat in the evening.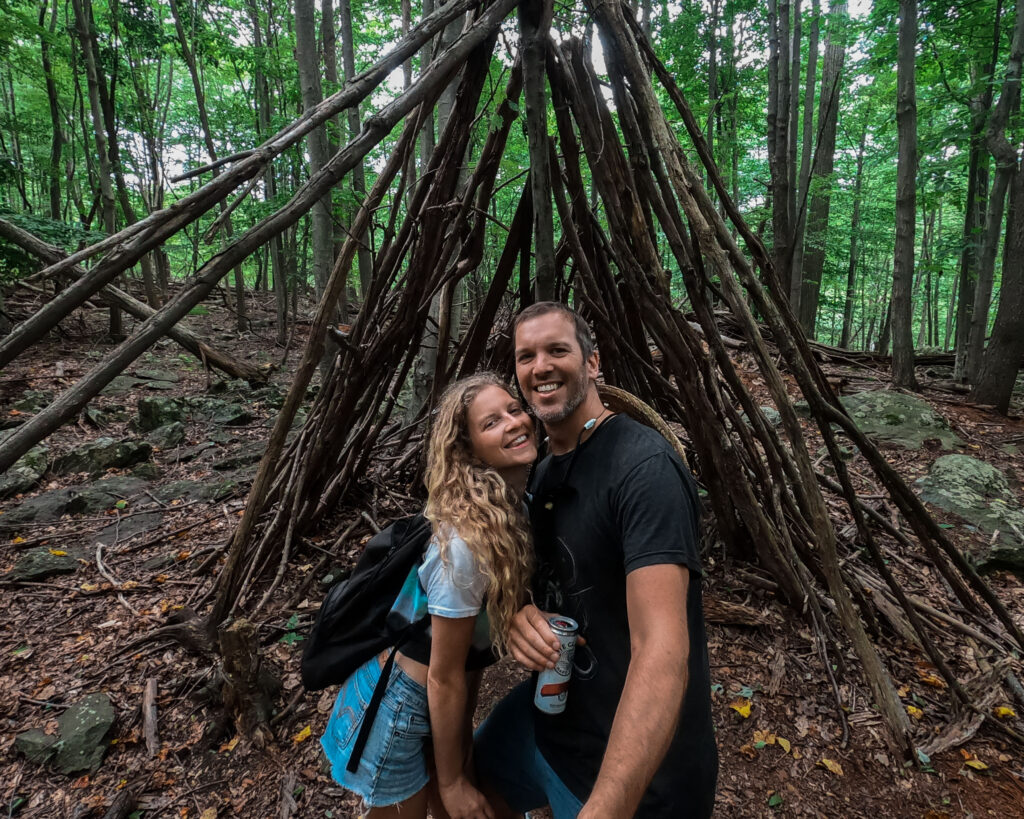 JULY 21ST, 2020 – – – BACK TO WORK
Today was Brian's official first day back at work. Since our sailing days have been pushed back due to covid, and we'll be behind on our budget to get us through the islands and continuing on with our sailing journey, we need to put more money in the bank. We will be in the Annapolis area for a few months working to allow this dream to still be a reality at the end of the year, when we are able to begin sailing down to the Bahamas again.
JULY 22ND – JULY 31ST, 2020 – – – DOCKED IN ANNAPOLIS
The internet at the marina is very poor, unfortunately. In order for Brian to work until we could find a solution, we had to stay at his mothers house. We were able to find a temporary solution, and hope it works throughout our stay. The people living at this marina are nice and friendly. There is not much staff here, and it is more like a place to rent a slip than an actual marina – no dock hands, fuel, or the like. Still, it's basically right at Annapolis without having Annapolis prices, and we have AC, so life is good. We've done some hiking in the area, and can't wait to have a day with good rain and no wind so we can have fun and take the boat out for some nice sailing days!