January 1st, 2021 – – – CREW ARRIVING LATER
Our new crew has asked if they could arrive a few days later than originally planned, due to the fact that we know we will be leaving later than expected because of the upcoming fronts and the need to plan our covid tests and provisioning after the weather passes. We agreed, which made them happy as they could spend more time with their family in what had been a short visit for them.

January 2nd, 2021 – – – TRIP TO DELRAY BEACH
It worked out well that our crew would be coming later, as it gave todays events to happen perfectly. My parents drove down to West Palm Beach to help with a few errands, and fitting 2 more people in that car would have been an actual struggle. With what seemed like a hundred of our packages, which we had been ordering on our way down the coast, stuffed in to the pack of their SUV, they parked themselves in the sandy lot in front of the Palm Beach Sailing Club. They met us happily on the docks as we pulled up on our dinghy; though happy to see them, we were not happy at the state of the chop on the lake and knew the ride back would be a wet one. We loaded up our dinghy with our newly acquired items, one of which was an 85lb Mantus Anchor. The dinghy was sitting low, and sure enough the short ride back to the boat was enough to fully soak our clothes, the packages, and our moods by the time we reached the transom (though I couldn't help but laugh at the absolute absurdity of the drench). Quickly, we changed out of our wet clothes, rinsed off, put dry clothes on, and emptied all of the boxes. This time, we went back wearing our foul weather gear – happy indeed!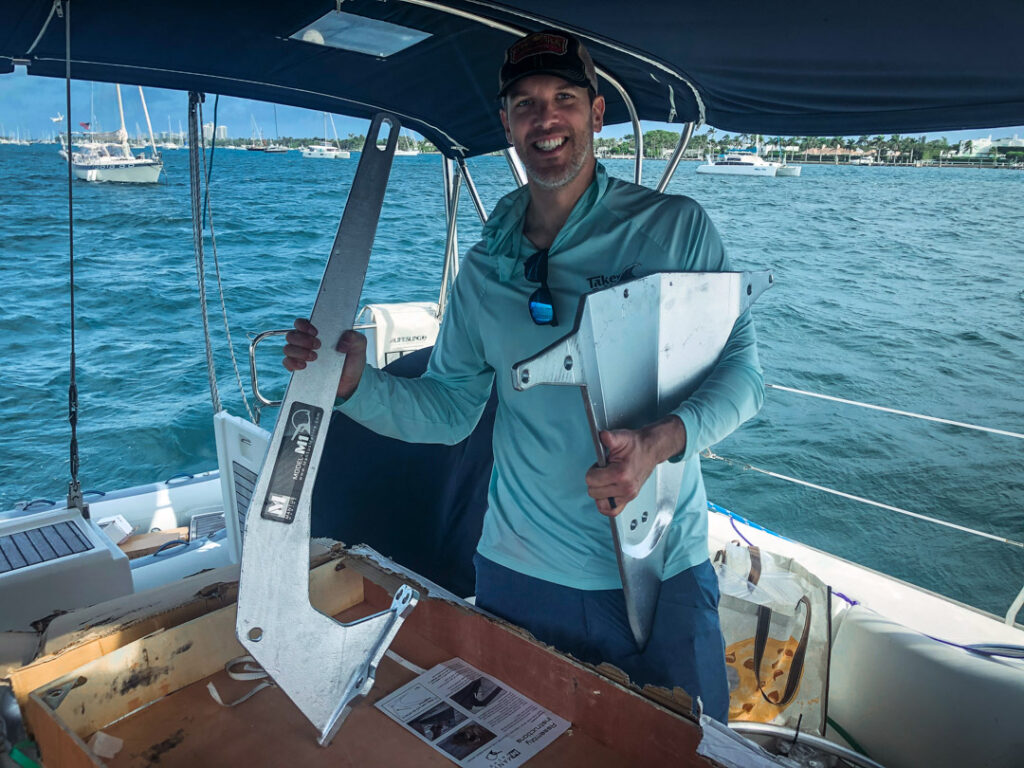 We traveled around the immediate West Palm Beach area in search for a laundromat. At risk of sounding like a total snob, we decided against using any of them based off of their reviews. It seems as though many people who leave their clothes behind have no clothes at all when they return. With other errands to do all day, finding out our sailing clothes have vanished was not a "bummer" we wanted to take on today. So, with that, we drove to Delray Beach for a laundromat, stocked up on some provisionings, and had a nice lunch. After the days errands were finished, and with what felt like hours hilariously driving around in circles, we made our way back to our dinghy where we then… ran out of gas. We said our goodbyes to my parents, who were now watching us and waving to us from the docks, and we were maybe 200 feet away when they then were witnessing us attaching our oars to our dinghy and paddling (rather badly) back in. After pinpointing the enging problem to a complete lack of gasoline, my parents drove to a nearby gas station to fill up our tank while we waited patiently by the dinghy. It was an eventful, hilarious, exhausting day – and honestly, I can't imagine a day doing errands with my parents going any other way.

January 3rd- 4th, 2021 – – – PLANNING & PREPPING
We spent the days on the boat planning and prepping for our upcoming trip. As for myself, I read up on all the newest Bahama Orders related to covid, including the rules for their new travel health visas, so we would be ready and prepared. John and Mo will be arriving on the 5th, so we also spent the day making sure their room was rid of as much of our belongings as possible. One afternoon, I randomly popped my head up through the companionway, about to devour a bar of chocolate, when I coincidentally set my eyes on a sailboat as they were just about to drop anchor. This specific anchorage, here in Lake Worth, has an unusual slack tide; everyone seems to hover right over their anchor. The reason this can be problematic, you see, is that if you set your anchor next to someone hovering directly over their anchor, while you're thinking their anchor is far straight in front of them, you're going to plop your anchor right next to someone's boat, set out your chain, and think you have plenty of room between them and yourself. Then, when the current comes back full swing, you'll suddenly find yourself with a boat (hopefully) inches from hitting yours – and you'll be wondering what in the heck went wrong. Anyway, it was at this moment I was watching someone anchor very close to someone else during slack tide and I said, to myself, "you're going to anchor too close!" which prompted Brian to also poke his head up. Within seconds he said, and I instantly realized, that that sailboat about to anchor too close to someone… was Delos. I shut my mouth and locked it shut – I would not be critiquing their anchoring skills anymore! Ultimately though, they did pick up their anchor and move to a different spot in the anchorage.

January 5th, 2021 – – – ARRIVAL OF CREW
Originally, we had looked for crew for various reasons. Mostly, it was to help with overnight sails on our way to Grenada. But also, with the difficulties that Covid has brought specifically in the traveling arena, we thought it might fun to have some others around to spruce up the dynamics (especially if were to find there weren't a lot of cruisers along the way). Unfortunately, just before our crew were to arrive, we found out that insurance would more than double for this boat if we were to go farther south than The Bahamas, and with that news came the hard decision to not venture as south as Grenada this season. We told our crew before their arrival and they were still keen on exploring The Bahamas with us until they themselves came up with another plan – probably with a drop off point near Georgetown. Late that afternoon, we got a call from them of their being close to the Palm Beach Sailing Club. We hurried to get our dinghy down and set off to beat them there, but they were too fast and were already waiting at the docks. Brian and John took the luggage to be dropped off to the boat and came back with a few tanks of gasoline. Our gasoline was from over half a year ago (when we filled up in The Bahamas) and with our new picky Tahatsu outboard motor, we didn't want to taint it with older gas; so, we filled up John and Mo's rental instead before they took it back. We all spent the evening slowly getting to know each other and work out the comfort of sharing a small space with each other; dinner was whipped up where we then had nice chats and lots of storytelling.

January 6th, 2021 – – – GETTING COMFORTABLE
The day went relatively well. They both seemed like they were becoming quickly comfortable in the boat, which I was happy to see as I am sure suddenly sharing a small space with nearly strangers is something few people would be willing or accustomed to doing. Brian and I continued with our own projects, boat and videos, while John and Mo finished finding homes for their belongings. Intermittently throughout the day, Brian and I would pull out some items for a cabinet to make room for theirs, which then turned in to a cycle of bouncing around items until everything had a place. Later that day the new crew asked if they could take our dinghy to shore for the evening so they could visit an old friend they hadn't seen in a long time. We told them we weren't comfortable with that just yet, but instead we dropped them off at the dock where we picked them back up some hours later. While they were out, Brian and I continued to plan out the day, and decided renting a car for the 4 of us would be cheaper than Ubering – plus, it would be much easier to lug our buys around town.

January 7th, 2021 – – – PROVISIONING FOR FOUR
The day started early as the Enterprise we were renting our car was gated, making it impossible to make an after hour drop off, so we wanted as much drive time as possible. The four of us Ubered to the nearby Enterprise and quickly began our errands. First, we went to West Marine, then to Ace Hardware, then found an RV dealer to fill our propane, and had a very quick stop for lunch before doing our dual provisioning at Publix and Whole Foods. Mo had found a dentist nearby and asked us to drop her off while the 3 of us did the first round of provisioning at Publix in hopes that she could get a retainer made before our departure. Now, since John and Mo were gone yesterday afternoon/evening during the important planning time, we did not get as well of a chance to converge our food ideas; but having done this many times before, we made a list of our general staple items and figured we would double on the meal items they knew they would also eat. In the end, each party bought their own personal items (mostly snacks that would not end up in the fridge/freezer) and the remaining items were "group foods" that would be used when any group meals were made. Brian, John, and I blew through publix, buying mostly canned and dry goods as it is cheaper here than Whole foods. We then raced to Whole Foods, where Mo would meet us via walking, having had no luck at the dentist, to buy fresh foods and items not carried by Publix. It was nearing the time we needed to take the car back and this second provisioning was made in haste, but ultimately completed well. We quickly filled the dinghy with our many bags, and Brian and John took them to the boat while Mo and I took the car back to Enterprise. When we returned, we all worked together to put the items in their proper place, which took us about an hour.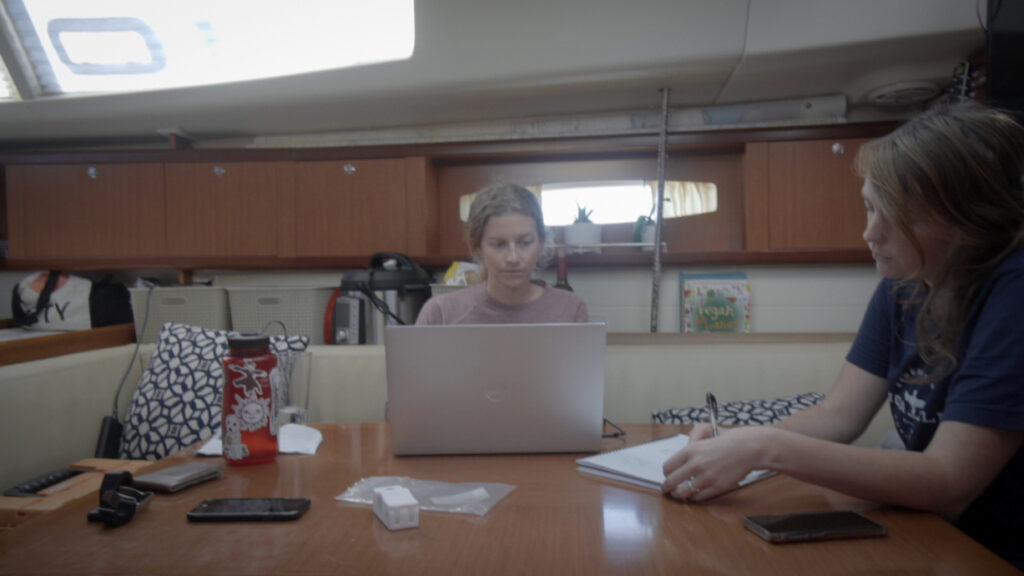 January 8th, 2021 – – – CRACKED WATER TANK FILLS BOAT WITH WATER
Today was spent completing boat projects, and teaching John and Mo of some of the boat intricacies and functions – how the toilet works, how not to drain the power, tips on water consumption, etc. One such important project was to unpickle and fill up our water tanks, which ended in disaster. The unpickling of the filters went well, as did the filtering of sea water. It was once we switched from filling up tank two to filling up tank one that, unbeknownst to us, tank one's hose had cracked from pressure buildup and some 30 minutes of water-making was silently filling up the hulls compartments in the forward cabin. Though certainly a blown hose was a problematic, the fact that the boat was filling up with water shouldn't necessarily been problematic had our stringers been clear of debris and able to make its way swiftly to the bilge. You'll remember I mentioned this ended in disaster, because in fact our stringers were clogged and the water did notmake its way swiftly to the bilge. Instead, after these some 30 minutes, when we went to check the status of tank one, we realized that tank one was still completely empty. Quickly we peeled off the bed to have a better inspection of the tank underneath when we found the cracked hose, and its accompanying release of water all under the floor boards of the forward cabin – completely undrained. Worse still, we noticed a severe list in the boat to the port side. After much thinking, it was realized the hose had cracked because of the new process in which we filled up our water tanks. Since we are filling our tank up via using the vent line, we need to also open up the water port on deck to relieve pressure – which in this case we failed to do, creating a buildup of pressure. All night we spent trying to find the clog in the stringers. I spent at least an hour shoving fish tape in to the stringer, hoping to dislodge something. Sure enough, what looked like wooden shavings and lined college-ruled paper (not our paper) slowly poured out with trickles of water. In the end, it was not enough to release any amount of water, and we left it to deal with again the morning.

January 9th, 2021 – – – FIXING THE FLOOD
This morning Mo and I spent another hour trying to unclog the stringers with the fish tape with no avail. We came up with the idea of running back and forth on the bow, trying to get the boat to bounce around, with little hope that the water would find its way out of some secret compartment, but this too did not work. Brian and John realized our plan, and took it a step further by having John and Mo sit on the edge of the boom while we pushed it out all the way to starboard, hoping the boat would list the other way. Unfortunately, it was still not enough weight to get the boat farther than just even. Brian came up with the idea to pour in an enzyme that he hoped would eat away at the clog if left long enough – our last resort would be to buy a shop vac to suck out all of the water.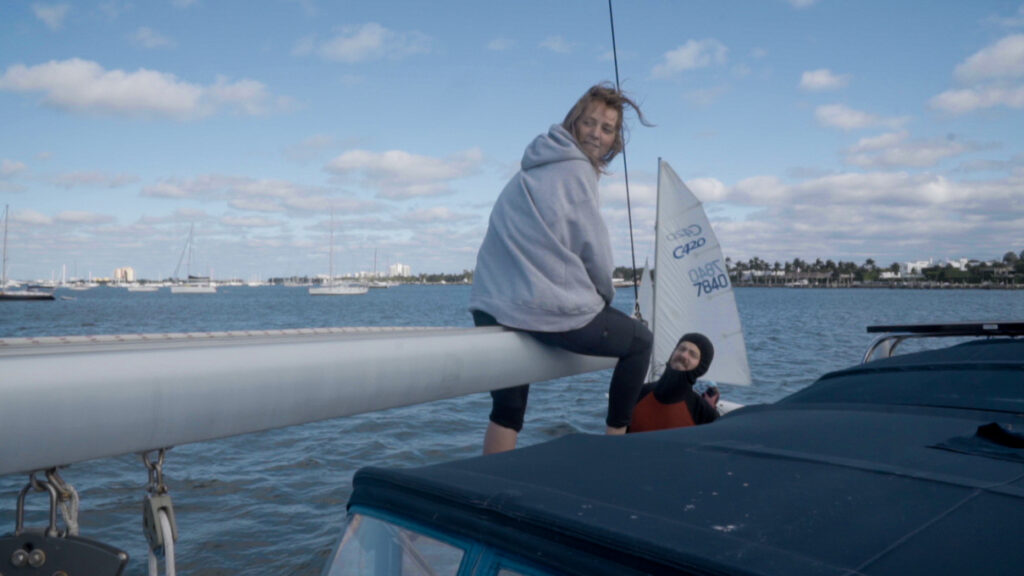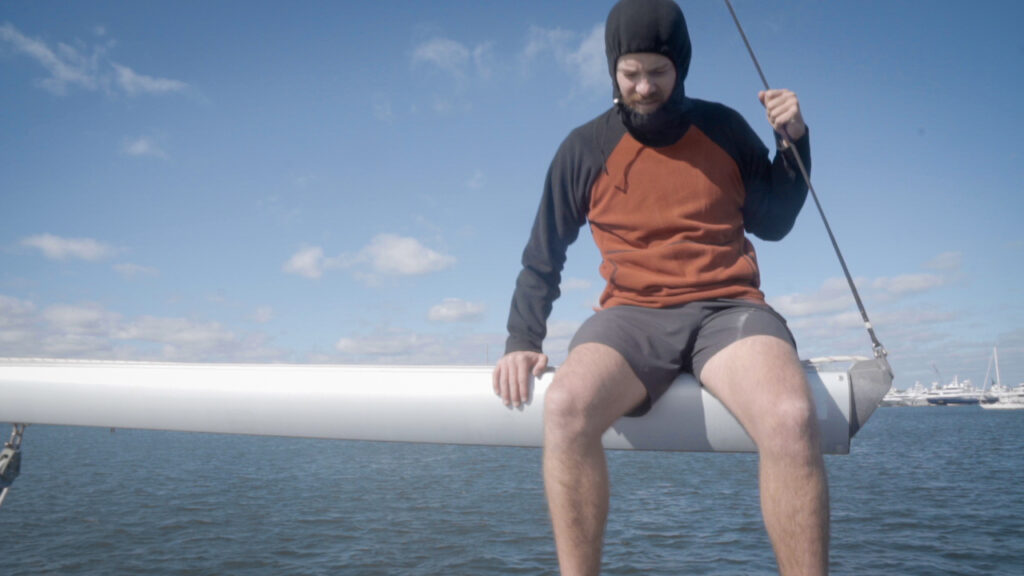 Giving the flood a rest, we discussed which day to leave. There was a front coming very soon, but there was a good window to cross to West End within a matter of days. To leave then, however, would mean we would need to spend the $200 to get a covid test in time instead of waiting for the free test at the clinic, which was closed on weekends. John and Mo both were feeling antsy about sitting around any longer, so we decided together to go the more expensive route to make the quick exit for The Bahamas. With this decision, I made a reservation for a slip at the Old Bahama Bay Marina as well as appointments for tomorrow to take our covid tests.

January 10th, 2021 – – – WALKING MILES FOR A COVID TEST
I scheduled our covid tests to happen first thing when ArcPoint Labs opened. The lab was two miles away from the Palm Beach Sailing Club, and everyone seemed up to having a brisk walk to get there. Indeed, we walked with a very quick pace, and arrived half an hour too early. We sat outside on a picnic bench until it was time to fill out our documentations that was requested of us to complete just before our appointment, which I needed to remind everyone given no one else read the email sent to them on the procedures. Once complete, we stood outside in line until we were called to go in. It was relatively quick, and the procedure itself only took a few minutes until we were out the door. Though the tickling in my nose lingered for far longer than that. Tired from our two mile walk, we got an uber to get back to the boat.

January 11th, 2021 – – – BROKEN PUMP AND AN ENCOUNTER WITH DELOS
We spent the day doing final logistics for where items would be safely stowed during sails. Our enzyme treatment to the water still stuck beneath the floor boards had failed, and we knew it was time for a shop vac. The results of our covid tests come in quick, and we were able to submit our documentations for our Bahama travel health visas, which were just as quickly approved.
Later that afternoon, Brian and I headed out to Home Depot to buy a shop vac. In the Uber ride back from Home Depot, I received a phone call from Mo telling us they were turning the faucets on and nothing was coming out. It was as if all the hardships were happening at once! As Brian and I were quickly walking to the dinghy, we saw another dinghy idling around the dock looking for a spot to squeeze in. We let them know we were about to head out if they'd like our spot, when Brian from S/V Delos responds from the dinghy that he thinks he found a spot to fit. We have a quick chat, all the normal niceties of enjoying their videos, and we tell them of our newest plight with our water not coming from the faucets, which we suspected to be a fault in the water pressure system. Delos' Brian laughed and said "that's a boat for you" and recommended manually pumping out the water from the tank itself until we found the culprit. Were we in the position to be able to actually access our tanks that would have been a great idea, but unfortunately our tanks are sealed shut and we do not have the key for the tanks access hole. We said our goodbyes and raced back to our own boat. It's an interesting feeling when you find yourself meeting the people who had a hand in inspiring you to live the life you're currently living. I'm sure they are approached often, and in fact we saw dozens of dinghies and kayaks approach their boat at anchor, but we were very content to have had a pleasant, organic chance encounter, and we wished them well on their own continued sailing journeys. Once back onboard, we quickly got to work figuring out what was going on with our water pressure. Needing to leave tomorrow, this was a huge problem. If something was truly broken with our water pressure system that couldn't be fixed by swapping a new pump, we would not be able to leave. After an hour of troubleshooting, it was figured that the pump itself was working fine, but the relay was malfunctioning. Brian was able to create a work around, and the water pressure was working well again. Tomorrow, we will be leaving… but first to vacuum out this water!

January 12th, 2021 – – – GULF STREAM PASSAGE
Before sunrise, we were up and ready for our passage across the Gulf Stream to West End, Grand Bahama. Brian picked up our anchor as I steered us to the inlet. In making this window, we knew we would have close to zero wind, requiring us to motor the whole way – and indeed, we did motor the whole way. The day was very overcast, but the water was just as deep of a sapphire blue as I remembered. We threw out our fishing line as we headed in to the stream and we caught a nice sized black tuna! Brian pulled it up and as he was quickly getting prepared to sever the artery near the gills, Mo insists he needed to put the blade to the back of its head. Needing to act quickly, Brian continues with severing the gill artery as he has always done (and seen others do), which made Mo visibly upset and she excused herself to her cabin. We continued to fillet the tuna and properly stow it in the fridge. An hour or so later, Mo emerges to explain that she has never seen it done this way, and was heavily affected as she was worried of the fishes suffering. She requested if we were to catch another, she would like to sever the artery in the gills in this fashion so she has a better understanding and connection with this method.
I noticed our fridge seemed warm when I had placed the fish inside. Later in the afternoon I checked again… still warm. Brian pulled out our fridge while underway and the compressor was cool to the touch. You've got to be kidding me!, we exclaimed. Luckily, it was an easy fix, something had only just come loose from a connector. But it was for long enough (we assume it had been happening for days) that some food items went bad.
We arrived to Old Bahama Bay Marina in West End around 3pm, and pulled in to the slip that was just next to the one we had last time we were here. The marina was dead empty aside from us and 2 other sailboats; such a contrast from the full marina we experienced last time. There was a bull shark in our slip waiting to greet us as we pulled in – what a sight to see! As Captain, Brian took everyone's passports to customs and did the necessary dealings to get us approved in to the country. By sundown, we were settled in and happy to have made it again, finally, to The Bahamas.

January 13th, 2021 – – – OCTOPUS HIGH-FIVES & OCEAN WONDERS
We woke up early and completed a few boat chores and straightening up. John and Mo went off on their own excursion for the day, and Brian and I went for a swim in the ocean. The air (and water) was still quiet chilly, and our swim was short lived; but for a few hours after we walked the stretch of beach and came across an ocean critter neither one of us had seen yet in the wild – an octopus! There was a nearby family with a few kids that we called over to share in our findings. The kids ran over, then when close enough tiptoed to see the octopus. The octopus was shooting through the water so silently, chasing after a crab that he so badly wanted to be his lunch. The stealthy little crab buried himself below some sea grass, and the octopus was left circling until he came right up on to the beach near us. Brian reached out his hand and gave him a touch just as he wrapped his tentacles around his finger; then, just as quickly, he was off gliding through the water again. We walked a little further and came upon a wall of rocks that jutted out in to the water. There was an older woman there, Jennifer, who was cleaning out some previously discarded conch shells, for what I assume was soon to be decoration. It was her first time in the Bahamas and she was so eager to tell us of all the fish she had just seen up around the rocks. The three of us walked the wall together and saw the prettiest little tropical fish. Later that evening, while the four of us were enjoying a drink on the deck, we saw a group of Carribean Squid sitting idly near our boat. Lights flashed throughout their body, and it was mesmerizing to watch. With the sun down, and enough alcohol in us to go on yet another beach walk, we headed for the ocean. We were met with yet another wonder as there were so many bioluminescent in the water! We frolicked and lit up the water beneath our toes – life is great!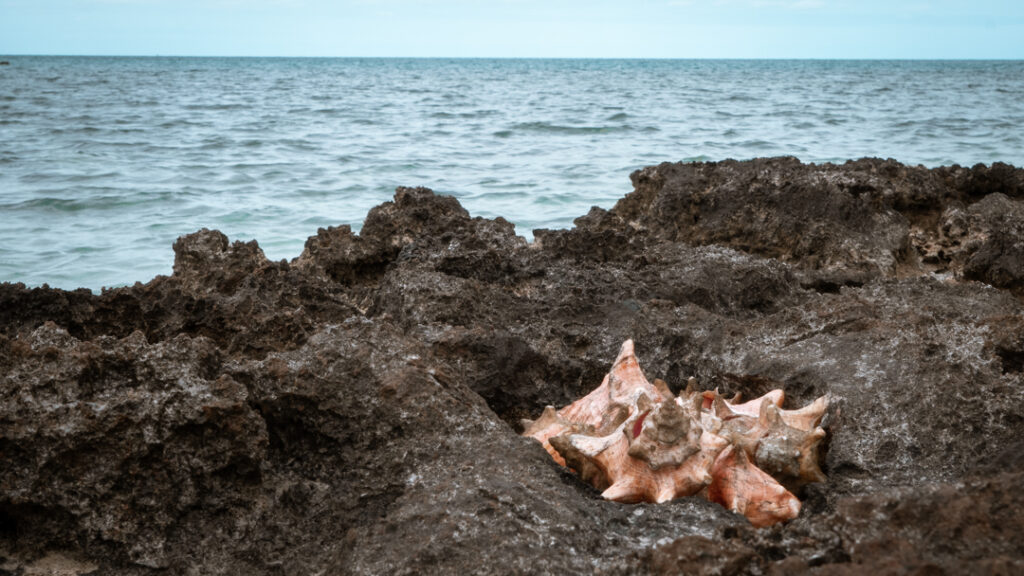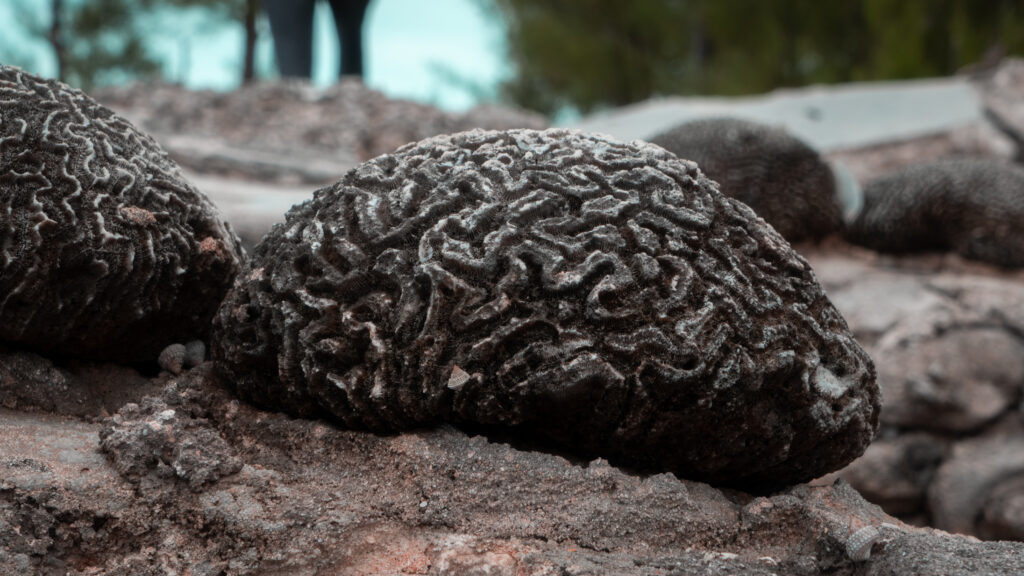 January 14th, 2021 – – – DRINKS WITH OLD SALTS
We hung out for another day in West End. A front was to be coming in, a weak one at that, but we're waiting our time out here in Grand Bahama either way since we need to take our second covid test on our 5thday of being here. John and Mo again went off on their own, and Brian and I did an even farther beach walk until we came upon a large makeshift tent along the beach that we did not want to pass. Later that evening, Brian and I went to have dinner at the marina's restaurant, not for a lack of food in our boat, or due to exhaustion and not wanting to cook, but in want to support the marina in a time that seems dead in terms of business. We both ordered the grilled cheese grouper sandwich – did not disappoint! The stories we heard from our waiter of Hurricane Dorian and the terrible hit to the Bahamas that covid has caused was heart-wrenching; had he not been sat with another table I would have loved to sit and chat with him more. Afterwards, we walked towards a group of people by the little tiki bar and were invited to join in on their chats. We spent a few hours mingling and soon enough explorer charts were spread across the picnic tables, phone lights illuminating where fingers were pointing. Everyone was sharing tales of sailing, and what best routes to take while sailing south, all while fresh caught lobster was being cooked on a nearby grill soon to be shared with the group. The occasion helped sparked my excitement for the islands even further.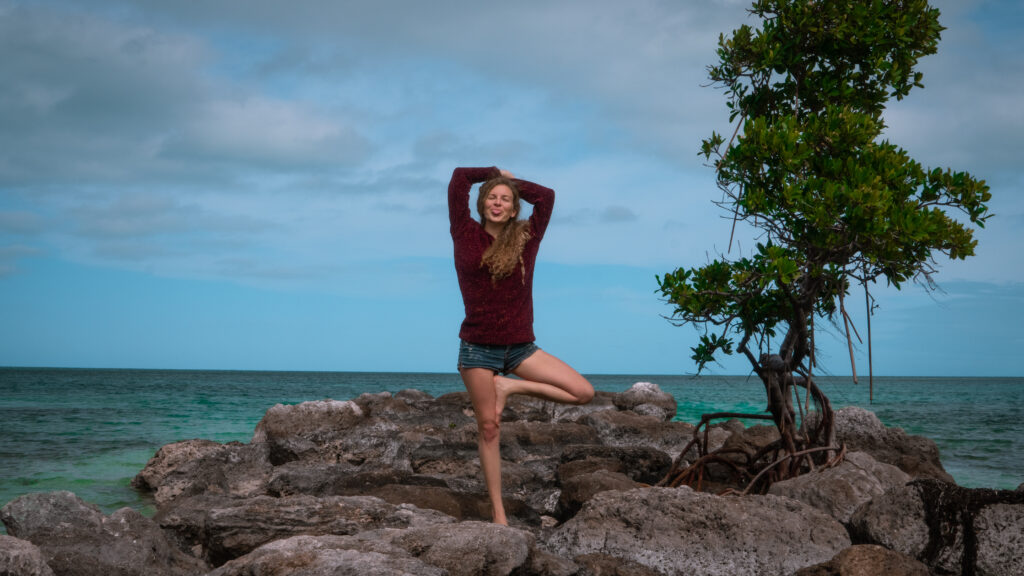 January 15th, 2021 – – – LUCAYA BOUND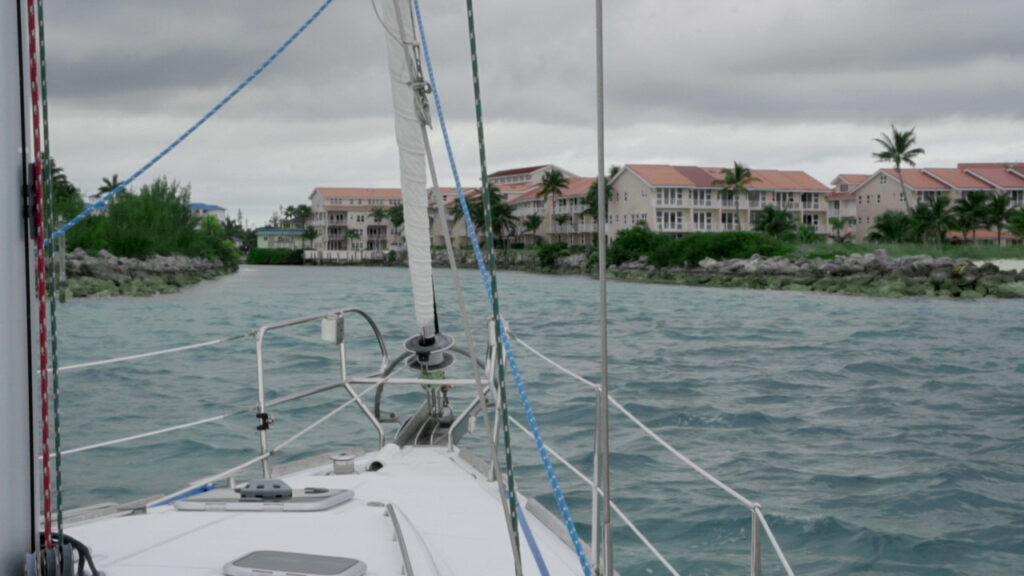 Brian and I woke with a start when we heard our slip neighbor start their engine. Anytime we see someone leave when we aren't, we instinctually start to think… what do they know that we don't? The front was to be coming later than expected, and today was a good day for a quick jump out to Lucaya for a covid testing. With that, everyone in the marina changed their mind and ultimately set out for the same marina in Lucaya – Grand Bahama Yacht Club.

January 16th, 2021 – – – SECOND COVID TEST
John and Mo got a head start in walking to the clinic in Lucaya to get our 5th day covid test since Brian and I had our scooters. We met up with them some time later, about halfway there, and walked the rest of the way with them. It was an outside tent with a line that went relatively quick. Afterwards, Brian and I scooted to Aliv to get a new SIM card since our old BTC one's expired; then after made a quick visit to the grocery store to stock up on fresh veggies. Once back, Brian and I swapped out our old anchor, a 65lbs Mantus, with our new 85lbs Mantus. John and Mo happily took apart our old anchor for an easier stow in the lazarette. Later that afternoon we left our slip to get to the fuel dock, since we knew we'd be leaving before the fuel dock would open the next day. We did not see John and Mo until that evening, where they joined us in planning our upcoming route to the Berry's up on the bow. Before long, they headed downstairs to begin cooking dinner while Brian and I finished up our plans for the following days.

January 17th, 2021 – – – SLAUGHTER HARBOR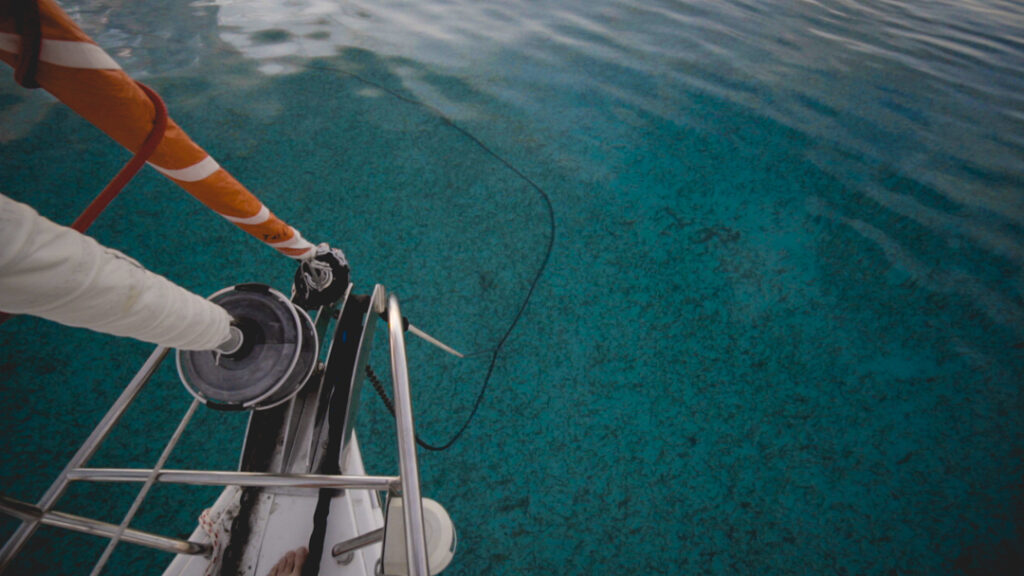 Early the next morning, just as the sun was rising, we made our way out of the inlet for Lucaya and motored south for Slaughter Harbor. We have not been having the best luck with good sailing days, but the its better to motor than to keep paying for a marina. Luckily enough, the front had already passed and was so weak we barely felt it. It was a quick and easy ride, almost straight south to the tip of the Berry Islands, where we anchored just near an eerily deserted Royal Caribbean resort beach. John dove the anchor, and we reset twice before deciding it was "good enough". We think there is hard rock just below the sand, making it difficult to fully set our new big bad anchor.


January 18th, 2021 – – – MY BIRTHDAY
We left Slaughter Harbor this morning to make our way down near Fowl and White Cay. Although it was another day of motoring, we did pull our headsail which gave us just enough of a push to be worth having it up. After having taught them how to operate on passages, we decided to begin taking shifts with the crew to get them acquainted with how it really feels to have the responsibility of being on watch. There was one jolting mishap of backwinding the sail, but with a quick recovery, and more of a shock to the nerves than anything else, everything turned out well that day.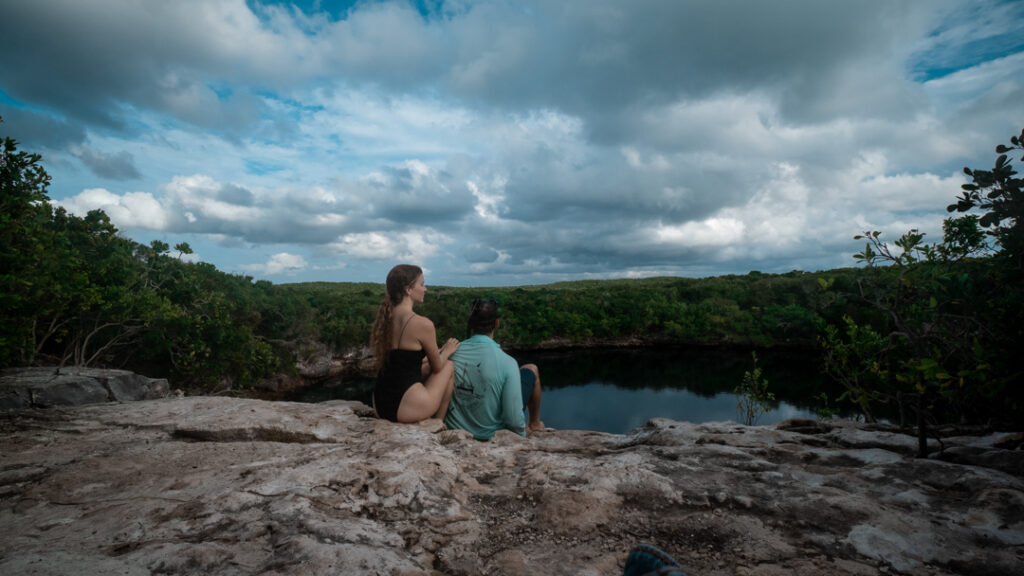 Our anchorage near Fowl Cay was beautiful! Brian and I felt a shared feeling of accomplishment – this was the farthest we had yet to have ventured in to The Bahamas, and all the stress and time spent getting to this place now all seemed worth it. After we anchored, I requested (as it was my birthday, after all) that we make a quick get-a-way to the nearby blue hole. And with that, we loaded ourselves in to the dinghy and headed north about a mile until we came to a tiny hidden beach in a cove. We hiked up the hill on an obvious well-treaded path to find a beautiful blue hole with a 20 foot cliff. A woman was standing on the edge of the cliff, terrified to jump; below, an older couple in the water and one woman far enough below the cliff where I could not see her, all cheering her on. The young woman, full of a nervous laughter, urged us to go first. Brian quickly jumped at the opportunity and leapt right off the cliff in to the water. Mo was quick behind. The woman urged me to go next, knowing full well she was planning to be the last one standing above I said supportively, you can do it! And with that, everyone began to cheer again until finally just moments later she jumped! A burst of roaring hysterical laughter ensued when she emerged and we all rejoiced in her delight, no matter how nervous it was. I quickly jumped next and felt the instantaneous rush of cool water and adrenaline. John followed suit, and soon enough we were all wading in the waters whose depths you could not see. Below the cliff, the hidden woman was Stephanie – a well known spearfishing-woman that Brian has met before. We talked briefly before her and her dog, and the group she was chartering, headed back to their boat; leaving us with the blue hole all to ourselves. After our swim, we made a detour to another trail where we came upon a ruin of a very old, small house with the chimney still intact. The island was a giant rock mound thick with plant life, and the trail forced a continuous ducking method of walking to make it under all the low hanging tree limbs. Later that evening, Mo whipped up the most delicious skillet brownies I have ever had, and we had a wonderful evening devouring it in celebration.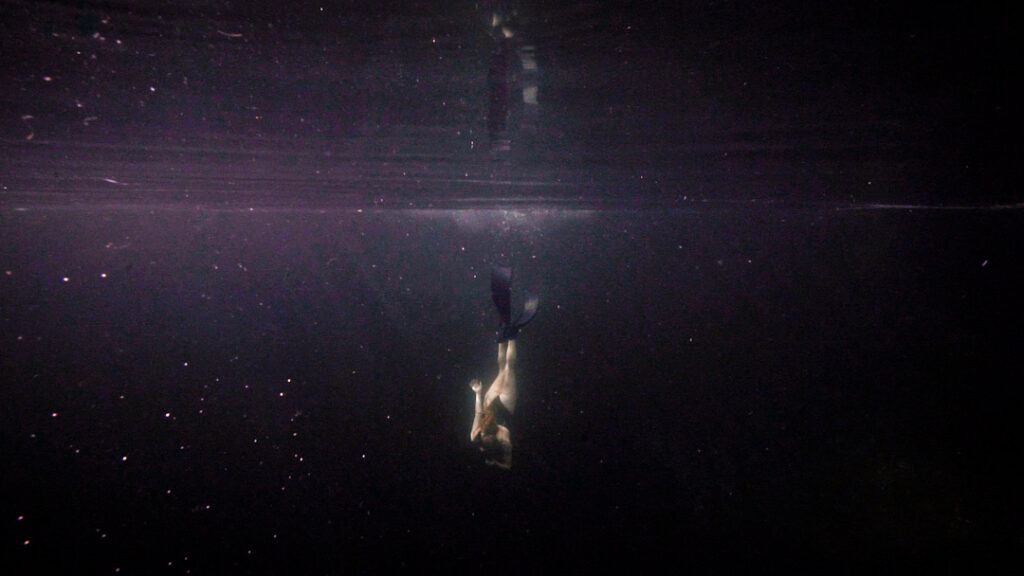 January 19th, 2021 – – – WORK DAY
Brian and I worked on the videos and writing. Around noon, we dinghied John and Mo to the beach where we met up with them later that evening and had some fun playing with our drone and hiking the island. The other side had an amazing view of the tongue of the ocean.

January 20th, 2021 – – – DIVE DAY
On the advice of Stephanie, whom we met at the blue hole, we went out to dive the outside of Devils Cay in search for fish and lobster to pole spear. No marine life was found and the waves were getting choppier by the minute so we went back and tried the inside; which was flat and barren. We then tried diving the neighboring small Gaulding Island, which had lots of pretty fish, but none big enough to eat. We did see plenty of large coral rock, teeming with lion fish, lobster, and even a very unhappy eel.

January 21st, 2021 – – – LOBSTER AND CONCH DINNER
We woke up early to finish the video, then went out to dive the little Gualding Island in hope to find a better sized lobster. Again, we had no luck and went north towards the blue hole. The marine life was healthy and we found lobster and an entire stretch of beach just filled with mature conch. We took two lobster, and four conch back to the boat to make ourselves a proper supper. Having researched many times the methods of preparing conch, I taught the others how to get the poor creatures from their shell, and how to quickly end the suffering and cut the meat. With the satisfaction of catching and cooking our own food, we happily dined to one of the most stunning sunsets I have ever seen.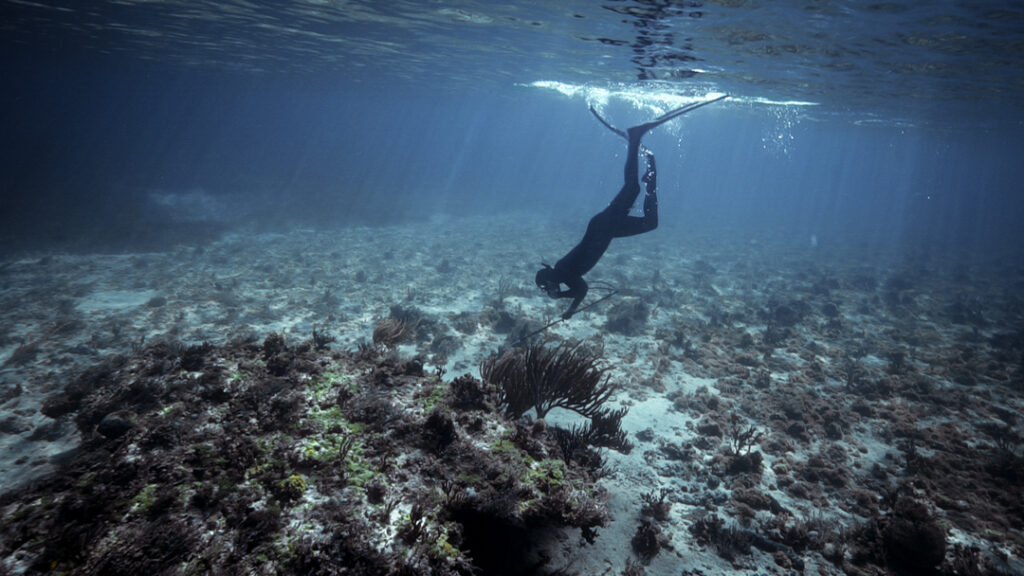 January 22nd, 2021 – – – OVERNIGHT ANCHORAGE IN NASSAU
Early in the morning, around 9am, we left the berry islands and had a very uneventful ride to the west side of Nassau. In the morning we tried sailing our spinnaker, but we did not have the right wind for it. As we began to furl it in, myself on the sheet, the force on the sheet began too strong for me alone to handle and Mo ran over to help me keep tension on the sheet. We arrived to the anchorage late in the afternoon, and Brian dove the anchor and had an unpleasant, but uneventful, run in with a reef shark. Having well been understanding the covid situation in Nassau, we stayed in all evening, not leaving our boat.

January 23rd, 2021 – – – BOUND FOR HIGHBORNE CAY
We quickly set off for our trip to Highborne Cay, where we motored (yet again! – dang you no wind!) between the Yellow and White Banks. I stood on the bow throughout various points of the day to be on coral head watch, but I never did see anything large enough to worry about. Our anchorage for the evening was very large, and filled with several mega yachts. A narrow catamaran in front of us had, I counted, 7 kids playing on deck – it was such a feeling of childish nostalgia, that feeling of having fun doing anything and nothing at all.

January 24th, 2021 – – – IGUANA ISLAND
The next morning Brian and I were bound for a trip north to Allans Cay on the dinghy to check out the critters on Iguana Island. John and Mo let us know they were going to stay behind and have a quiet day, and with that we were off for a day of adventure. The dinghy ride was far, but the clearness of the deep water was mesmerizing to pass by. The Iguana Island was much smaller than I had anticipated, but we stayed playing and sitting near those curious reptiles for quiet a while. We swam in the crystal clear waters along the beach and dove beneath to take closer looks of all the tropical fish. Later in the day, when back on board, Brian and I popped open our sour mix and made whiskey sours – deeming it Sour Sunday! Eventually Mo and John joined in on our Sunday festivities (John sipping on his seltzer water), which ended in Brian and John jumping from the first spreader, much to my dismay. We all jumped in to the water and took turns diving our chain and seeing how long we could hold our breath for. John had an impressive breath hold having had no experience in freediving. We continued to swim until the sunset, making for a wonderfully fun and relaxing Sunday.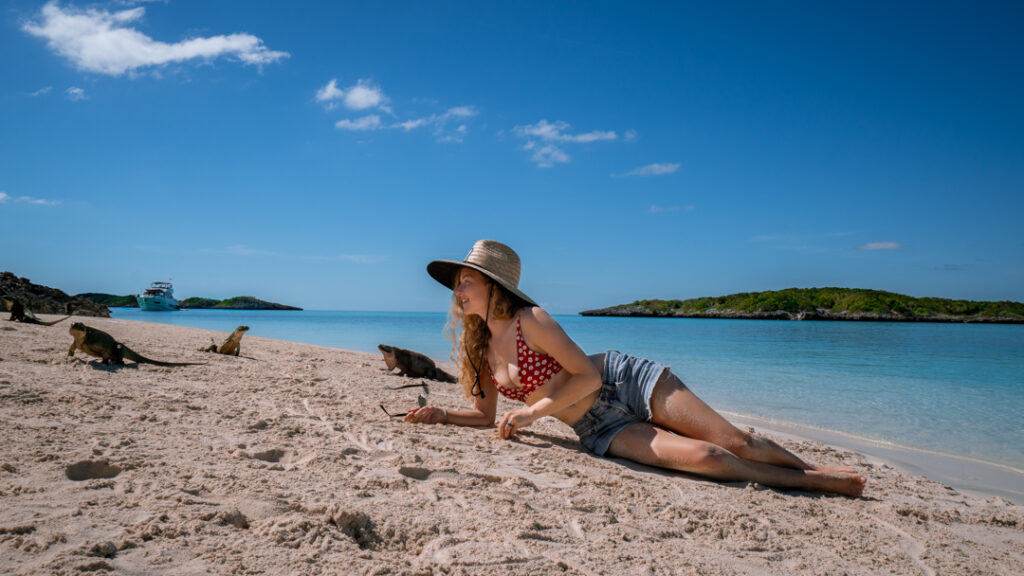 January 25th, 2021 – – – EXPLORING MORE OF ALLAN CAY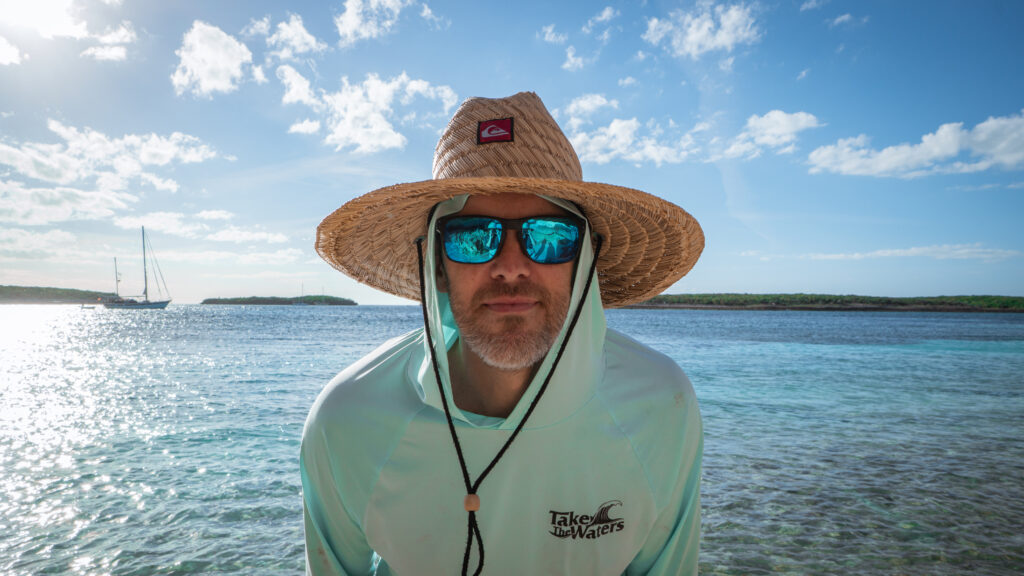 John and Mo, after hearing of our experience yesterday, also wanted to see the Iguanas of Allan Cay, and together we all rode over. With just a quick stop to Iguana Island, we veered of for an adjacent island Brian and I had spotted yesterday, that we knew to have some hiking trails. We spent the day swimming in the cove and hiking the trails, and even being spooked here and there by the sneaky little Iguanas who would emerge from beneath the brush to chase us.

January 26th, 2021 – – – WORK DAY
Mo and John took the dinghy to the beach and Brian and I stayed behind and worked on a song skit for an upcoming video… if we can get the harmonies to match, that is. Either way, creating the skit was fun.

January 27th, 2021 – – – HIDING OUT IN HIGHBORNE
We've been having such an amazing time, with near to no worries, our entire time in the Bahamas thus far. With a new strong front on the horizon, Brian did not want to chance ruining this happy streak and reserved a slip in the nearby Highborne Cay Marina. We arrived this morning, and just as we entered our slip, we realized how fancy this place truly was. Mega yachts and million-dollar trawlers surrounded us – it was much more of a resort than it was a marina. Either way, we weren't unhappy to be here; in fact, since we're paying for it after all, we took our time enjoying all of the amenities.

January 28th, 2021 – – – ISLAND EXPLORING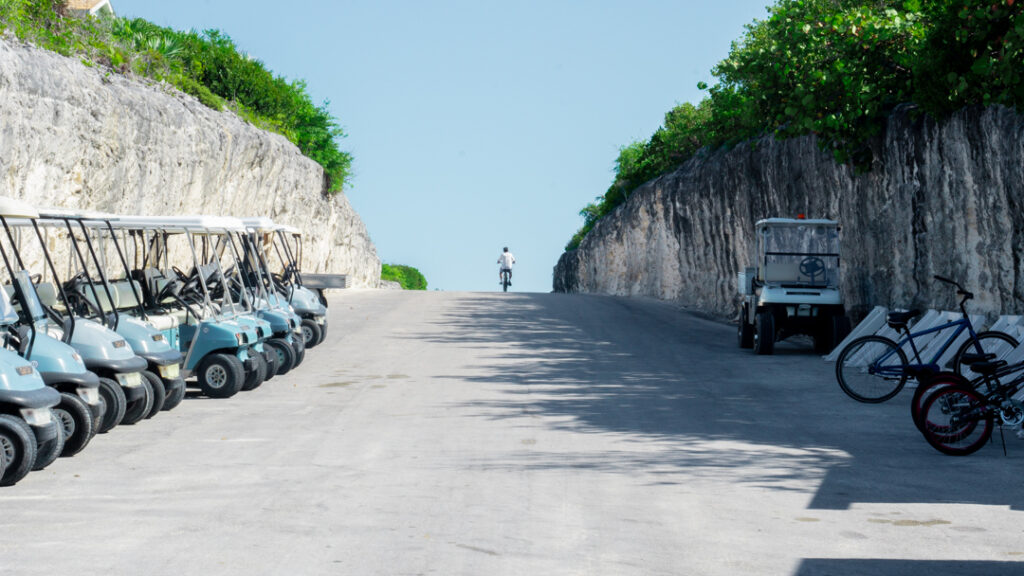 Brian wanted to get work done on a video, and I really wanted to spend the time exploring this place. The strong front was here, and it was blowing!, but I somehow convinced him to do the latter with me, and together we set off for a day of adventure. The marina has complimentary bikes you can take around the island. Brian was lucky enough to get one his size, mine was a bike for a child – I had to stand and peddle the entire time as my knees would hit my armpits otherwise; it was laughable. The island is surprisingly large, and the resort has built many features to enjoy; our favorites being the crow's nest, a well built and stocked outside gym, and a sturdy pagoda swing overlooking the Atlantic Ocean. We rode our bikes to the village, where they have goats and a chicken and quail coop. I even went on the hunt for "the spring", which turned out to be a hysterical joke played by the resort. It was literally a giant metal spring hanging from a tree and not the spring fed pool of my imagination.

January 29th, 2021 – – – SAIL TO EXUMA PARK
We left this morning from Highborne Cay Marina. The wind has calmed down, but even still, once out in to the bank, we had a consistent 23 knot wind that we sailed all the way to Exuma Park – so much fun. Once we arrived to Exuma Park, we called the office who then gave us directions to our ball. Coming in to the park was a little sketchy, especially having never been before. You are to follow the, very narrow, dark blue line between the, very shallow, banks on the side and count until you find your ball. Once in and settled we couldn't wait for the next day to go in and explore. This place looks so beautiful, I want to swim and climb everything!

January 30th, 2021 – – – BOOBOO HILL & AN ANCHORAGE PARTY
The four of us went in to the island today and hiked to the top of Booboo hill – fun fact, it is also the only place on the island you even worth trying to stand with your phone high above your head to get service.  We came across a little rodent creature, which we later learned was called a Hutia, and it was so spooked by our presence that it leaped itself practically in to Brian's lap. Later in the evening everyone in the anchorage went to the beach and had sundowners together, it was great! We met a lot of great people, and a woman Melanie was such a wealth of knowledge. Later in the evening we met Sam and Aaron, and their little kids, who invited us to their boat later that night where I may have had too much of a very strong margarita.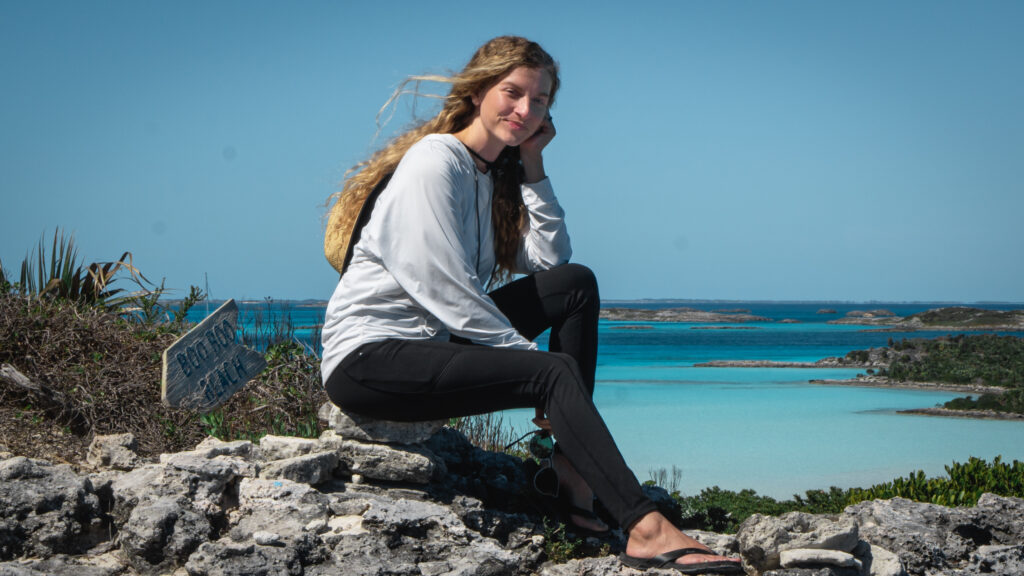 January 31st, 2021 – – – DIVING HUNGOVER
I was so hungover today. We tried some reef diving around here, but the current was strong and we went back in – lucky for me, for my stomach wasn't going to be up to the task much longer. Later John and Mo wanted to sit back on the beach while Brian and I hiked further in to the islands' trails. We came upon "Shady Trail" which was so starkly different than the rest of the trails, it was almost creepy. Narrow pathways with palm trees and poisonwoods engulfing you in every direction – it turned out to be our favorite trail of the day.