AUGUST 1ST – – – FAMILY BIRTHDAY
There are two upcoming birthdays in Brian's family, and we met today to have conjoined birthday parties. Brian's birthday is in a few days, and his niece's later in the week. We rented a car to drive to the party, but not before sending him to a surprise stop at the local Cinnabon to collect a dozen delicious hot and gooey rolls. Brian has been wishing for these each birthday, and now we finally had one close by. He may have snuck one in as breakfast right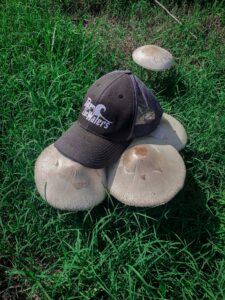 when we got back in the car. We had a nice time at the family get together, and after we stuffed ourselves with food, drinks, and desserts, we all played croquet outside. Always nice to have a chance to surround yourselves with family, green grass, and trees on hills.
AUGUST 2ND – – – ANNAPOLIS
We took advantage of having a car for the weekend, and went to downtown Annapolis. We're technically in Edgewater, and with a quick scooter ride over the bridge we'd find ourselves in the city. However, the bridge, as it turns out, is not scooter friendly, and becomes increasingly dicey to drive through the streets on the other side. Downtown Annapolis was lined with uniquely styled multi-story brick buildings, winding corners and flowing down hills as if the streets were waves. We had some drinks outside of a pub, walked the marina on the edge, and then sprinted back to the car (as our time was up)… but not before running right past a outside flower vendor, grabbing a bouquet to go, and setting off again to the car.
AUGUST 3RD – – – BRIANS BDAY & HURRICANE PREP
Today was Brian's birthday. We stayed in, cuddled up, had some coffee in bed. Unfortunately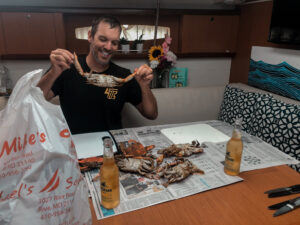 Brian had to "work work" today, but we found some time in the afternoon to pick up some crabs (our new favorite!) and had ourselves a birthday crab feast inside the boat. Later that evening we double tied our boat lines, took down any projectiles from the deck, and took down our dodger in prep for Hurricane Isaias that was hitting us that evening and the following day.
AUGUST 4TH – – – HURRICANE ISAIAS
Thankfully, Hurricane Isaias did not hit us hard. We heard distant rumbling all day, which is always a nice relaxing sound on those rainy days. We spent the day inside, watching movies in bed, and playing hooky with work. We did get a lot of rain, and by the evening the water level went up at least 2 feet. The wind was not too bad, really about 15 knots on average. There were a few times where we had large gusts that really knocked our boat around in the slip (don't worry, we had great lines tied). The worst of the storm passed by the afternoon, and the rest of the day was cloudy and quiet.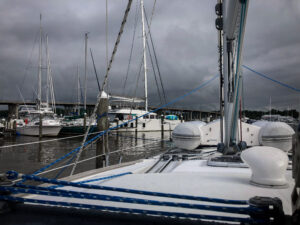 AUGUST 5TH – 22ND – – – BOAT. WORK. FILM. LIFE. REPEAT
A myriad of days spent being busy. "Work work", boat work, Take the Waters work. Spent lots of days on boat maintenance, boat waxing, and installing a new compressor and evaporator for our freezer (hooray for a new working freezer). We shot a tech video for our Patron's on this freezer install that we'll release hopefully within a few weeks. We've been working on a t-shirt design as well. We came up with a concept, I made a quick sketch up, and we were able to turn it in to a pretty cool shirt with the help of a shirt designer and a shirt printer that we're very excited to get out! Looks like end of September we should have them available to everyone. I've also been diligently working on YouTube SEO's, improving our website, and engaging with viewers. We're also very close to having our water maker video finished (and our first episode for season two), all that was left was to shoot our comedy sketch we came up with. We took our boat out just across the South River and had one of the funniest filming days we've had in a while. Lots of work, but work we're having fun with and happy to do.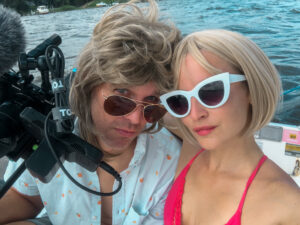 AUGUST 23RD – – – FIRST FUN BAY SAIL DAY
It's crazy how fast time flies. We've been in this marina for over a month, and today was the first day we took our sailboat out to actually have fun and sail! Work weeks are tough to go out because of the work we're doing while we're here. There's also been bad weather these past few weekends, which wasn't helping our need to get out there and sail. But today, we woke up to the sun shining and a nice breeze. We sailed down south about half way to St. Michaels across the bay. During our recent ocean sailing, we've never had much opportunity for tacking or sail trimming. There's always been a consistent wind, and a destination we need to get to. We played all day with tacking and trimming our sails, moving cars and travelers. Once it was time to turn around, we did our first gybe on this boat and it was smooth and graceful! For the entire way back, we had our spinnaker out. It was the most fun we've had sailing in a long while. So fun in fact that we completely forgot to eat the entire day until we docked at 5pm.
1,300 NAUTICAL MILES SAILED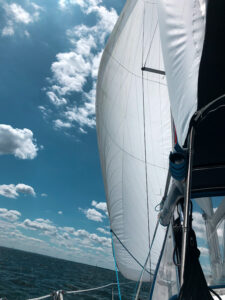 AUGUST 24TH – 29TH – – – BOAT. WORK. FILM. LIFE. REPEAT
Back to the grind and continuation of our hard work and creating some pretty cool plans for our future.
AUGUST 30TH – – – FUN BAY SAIL DAY WITH FAMILY
Two great sailing days in one week! Today Brian's brother and niece came out to visit, and we were lucky enough to have another gorgeous day of sailing on the bay. We had the wind on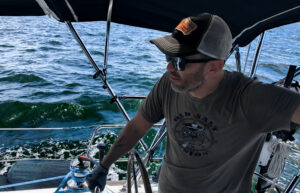 our port stern as we motored down the South River, and as we got closer to the Bay we tried pulling our asymmetrical spinnaker to see how it would sail with that wind angle. We couldn't believe how well it worked! We had only ever used it with a beam wind before. We were cruising faster than anyone else doing wing on wing sailing. Our wind indicator is broken… again, so we're not exactly sure the wind speed, but we estimate around 7 knots, with us sailing at about 5 knots. We sailed with our spinnaker for about an hour, until it was time for us to turn around and raise our head and main sails. We sailed north on a port tack, and we were sailing with such an exaggerated heel. We made a tack back for the South River, where we were met with a heavy amount of oncoming boat traffic. There was a time where having that many boats zoom by me while steering made me nervous, and now I boat on by like the rest of them. We were happy to see how much fun our niece had today, and she even helped with some line pulling. Once we docked back at the marina, we picked up some crabs and had a crab feast!
1,312 NAUTICAL MILES SAILED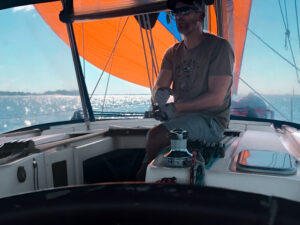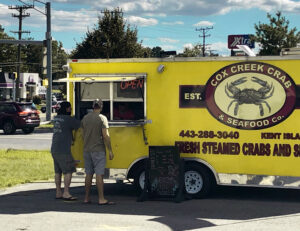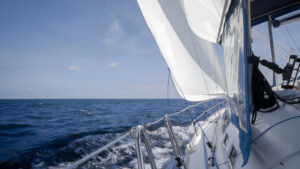 AUGUST 31ST – – – WORK DAY
Another day spent working away – all good things.