by Mandi Sorg
We have never even sailed past the Skyway Bridge, yet here we are, two months in to owning our first sailboat, embarking on a trip around Florida. Nine days are all we have to make it to Port Canaveral before returning to work. St. Petersburg is too far from Orlando for constant weekend travels, and no matter how much we'd love to stay, we just can't afford the marina's. Our slip lease is up, and we have no other options but to move Shonto now. I hear the engine turn, alerting me that it is almost time to leave.
I take myself up the companionway as the sun begins its morning glow. Brian is welcoming Mike, our last crewmember onboard, together placing his bags on deck. A bowl of what looks like zip locked flour, oats, and maple syrup finds its way to the bench. The more food the better, I think to myself. Prepping food for 3 large men and my tiny self for the first time, and I'm unsure of how I did. I turn to walk along the side decks of our Beneteau 46, pulling in fenders and planks slowly. A week prior, I had thoracic surgery, and I'm doing my best to go easy on my body while also still being useful to the crew.
Marion drags himself up on deck, his body language declaring him not a morning person. He sees my fender preparation, and begins placing them in the lazarette. After a final walk through below, securing the last loose items, I give a quick nod to Brian, who announces we are prepared to leave. Mike and I release Shonto from her docked bowlines and just like that, we are gliding out of our slip for the last time.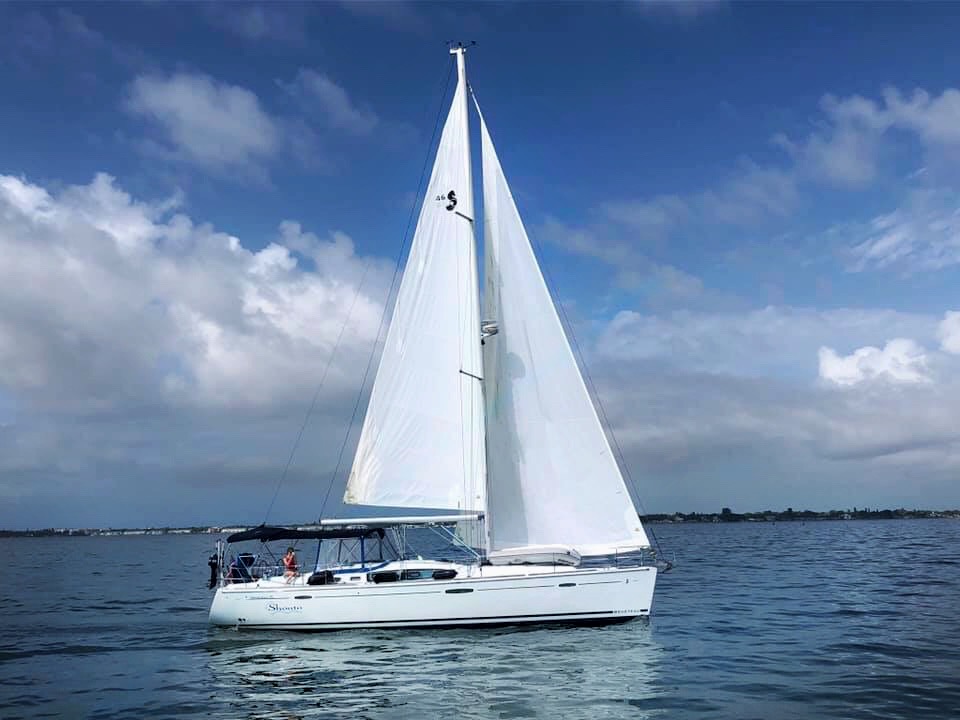 Brian and I both can be stubborn, optimistically ambitious individuals. We tend to want to do things ourselves, in our own ways, and on our own time. When I first met Brian, he shared with me his dreams of sailing the world, a dream which I soon shared with him. With Shonto, we hope take this dream on – but first, move the boat and have an consequential shakedown to learn what we can fix and improve on. Proving to ourselves that we could take our own boat on a 500 nautical mile journey alone was huge, but we knew it was smarter this first time to bring extra hands. Mike was a live aboard neighbor at the marina we've departed from. He would pass by daily, on his way to and from personal ventures, and often saw us working on one project or another. Brian knew Marion through work and they bonded over their varying degrees of sailing experience.
I stand on deck, racking my mental checklists, hoping we have not forgotten something. It seems all too easy to simply leave in a matter of seconds – it feels so informal. I can tell through his silence that Brian is busy thinking as well. After a time, he admits he is almost sick with nerves, and with good reason. Our haul out for the depth transducer installation was canceled due to bad weather. With a 5'9″ keel, we routed our courses on maps only through areas with 10 feet of depth, or more, to steer on the side of caution. If we did not accurately plan the routes, especially through the shallow Keys, it could mean grounding the boat.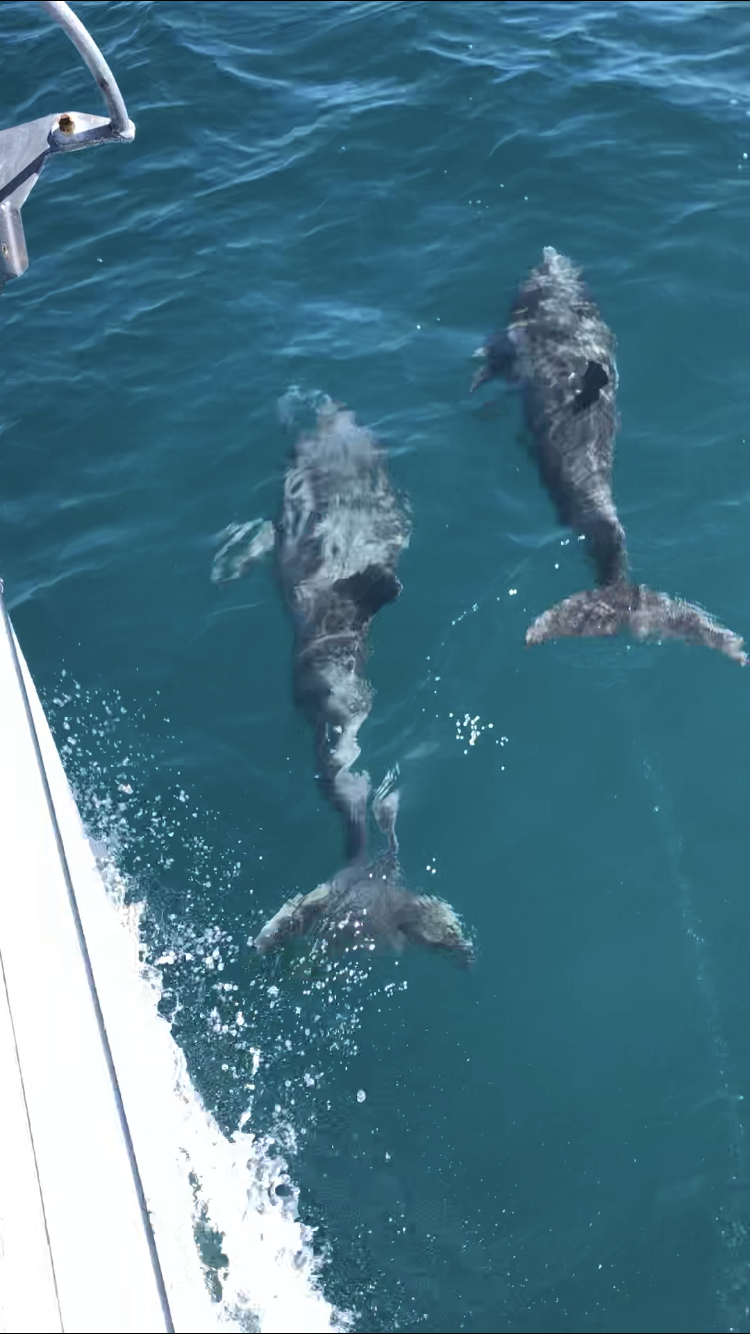 Hours have passed since we passed under the Skyway Bridge, and are now three miles out in to the gulf, cruising at a consistent 6 knots. The wind is dead on our nose and the motor has been our only source of propulsion the entire day. The gulf allows ample time to enjoy the slow and serene hours, and even brings us to childhood giddiness with a day spent reveling with the endless dancing dolphins at our bow.
When evening comes, we divvy up overnight shifts. Mike and I will take the first four hours, Brian and Marion the next, then us again for the last remaining four. Brian and Marion head below to get some sleep, while Mike and I brew coffee and layer up with warmer clothes. Tethered in, I check the course and engage the auto-pilot. The countless sleeping shrimp boats we had been passing begin coming to life, like something out of a Ghibli film. Their lights flickering to a glow. Their netted arms reaching beneath the water as they slowly turn, all together, setting off towards some unforeseen destination.
At 4am, Mike makes a startling interruption from the silence. "Look there! What do you suppose that is?!" Mike points to what my brain only understands to be some oversized neon orange lit sail. I grab the closest binoculars, "It's the moon!" We laugh all evening over this simple delight. By morning, I decide that the dusk and dawn shifts are best – you see the earth's best transitions! Our shifts may not have been nautically eventful, but the stars make for a marvelous show.
The next day we are fifteen miles off the coast, and the winds shift! We pull our sails for the first time, sending us gliding at 8.15 knots. The infamous 7-mile bridge appears on the horizon by late afternoon, where our evening docking lies just on the other side. I peer over the life-lines, staring at the passing crystal blue waters as we begin the approach to the bridge. "That doesn't look like 10 feet…", I gulp uneasily, abruptly reminded of our serious depth situation. We check the charts again, somewhat easing our minds, but the illusion of the bottom being a hands reach below the surface is nerve racking! All four heads are pointing downwards, unintentionally avoiding our next anxiety – the bridge!
"What was this clearance again?", Brian says uneasily, fiercely studying the height of our mast. The bridge starts to hold another illusion of not at all looking tall enough! I quickly grab the iPad, and find no height listed. We try our phones, but reception is shotty. Binoculars are no use as the board is nowhere to be seen. Turning around could put us at risk of grounding the boat since we haven't preplanned an alternative route. We're also almost out of fuel – what happens if we find ourselves with no more wind? We edge closer, holding our breath as we begin to pass underneath. I remind myself we wouldn't have planned a route under a bridge we couldn't fit under. As if in slow-motion, we slide underneath. From below, it looks as if we are mere inches from scraping the top – I practically squeal in worry for our wind indicator. As quickly as the mast went under, it is out again. The relief was audible.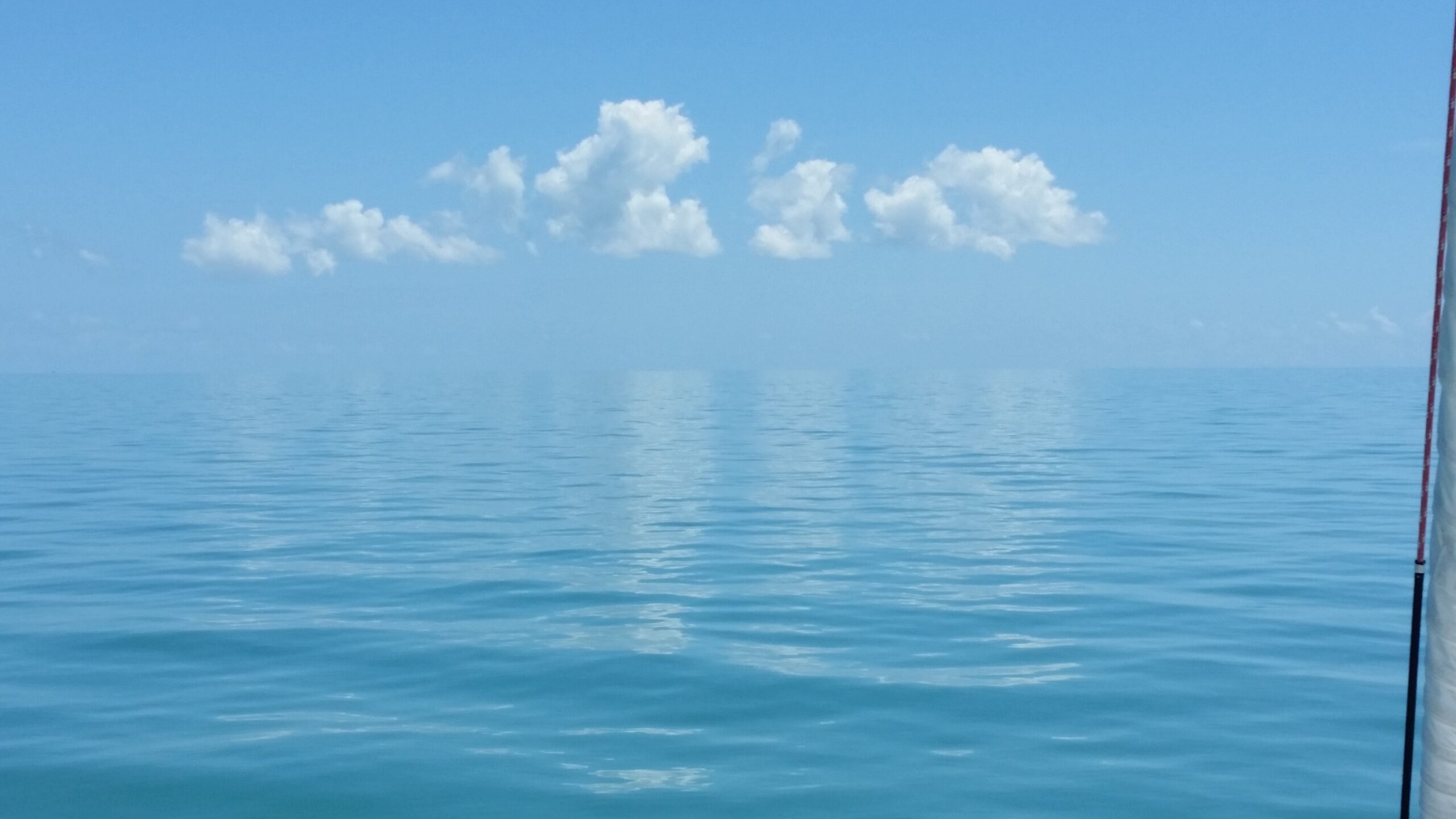 Half an hour later, we are pulling in to our transient slip on Marathon Key. Brian steers as Mike and I secure her with the lines. The engine has not been off for less than 10 minutes when our battery alarm sounds. Struggling with the barely long enough power cables, we plug in quickly. We have no more energy and will have to inspect the newly found battery issues later. We take our weary eyes to the nearest restaurant for fish sandwiches and ice cold beers.
The next morning we wake with the sun, brew our coffee, and take off after we fuel up. There is a short day ahead of us, where we will arrive to our half way mark at Rodrigues Key. The previous day's depth anxieties are still on the forefront with Marion. All day he points out any inkling of changes in water color. At first sending us all in to a slight anxiety, we begin to laugh and disregard after each alarm resulted in over 20 feet of depth on the charts.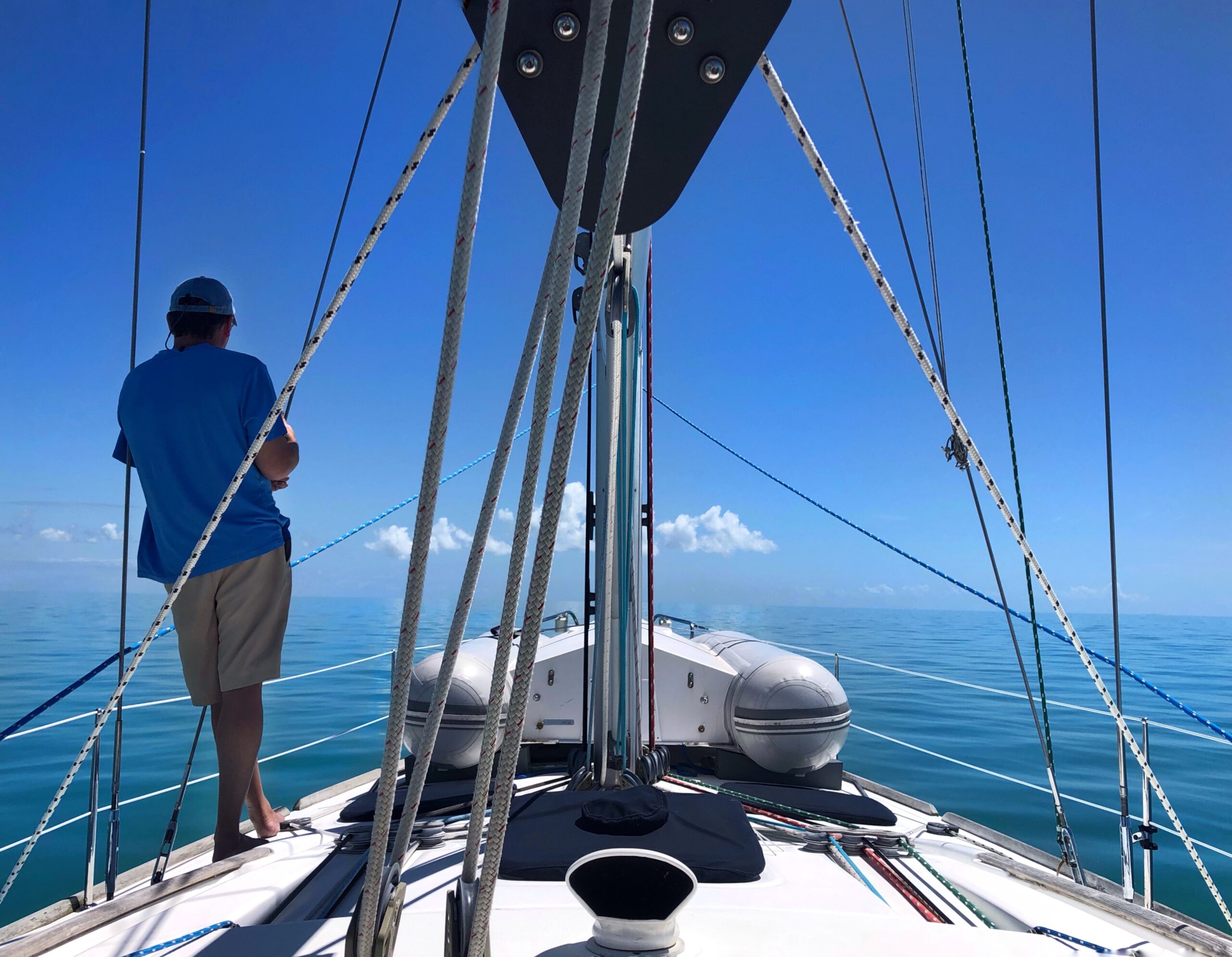 A few hours before sundown, we arrive on the north leeward side of Rodrigues Key. We tiptoe between the few already anchored vessels and the shoals before finding our spot. Brian walks to the bow and I take the helm as we drop our anchor. Once secure, Brian quickly runs below deck and pops up just as quickly through the companionway. "We've made it halfway!" he exclaims, underhand throwing us each a celebratory beer. After dinner, Brian and I sit on the bow, watching the dark water when hawk-eye Brian spots a sting ray! Together we watch it glide around the boat before heading off to bed.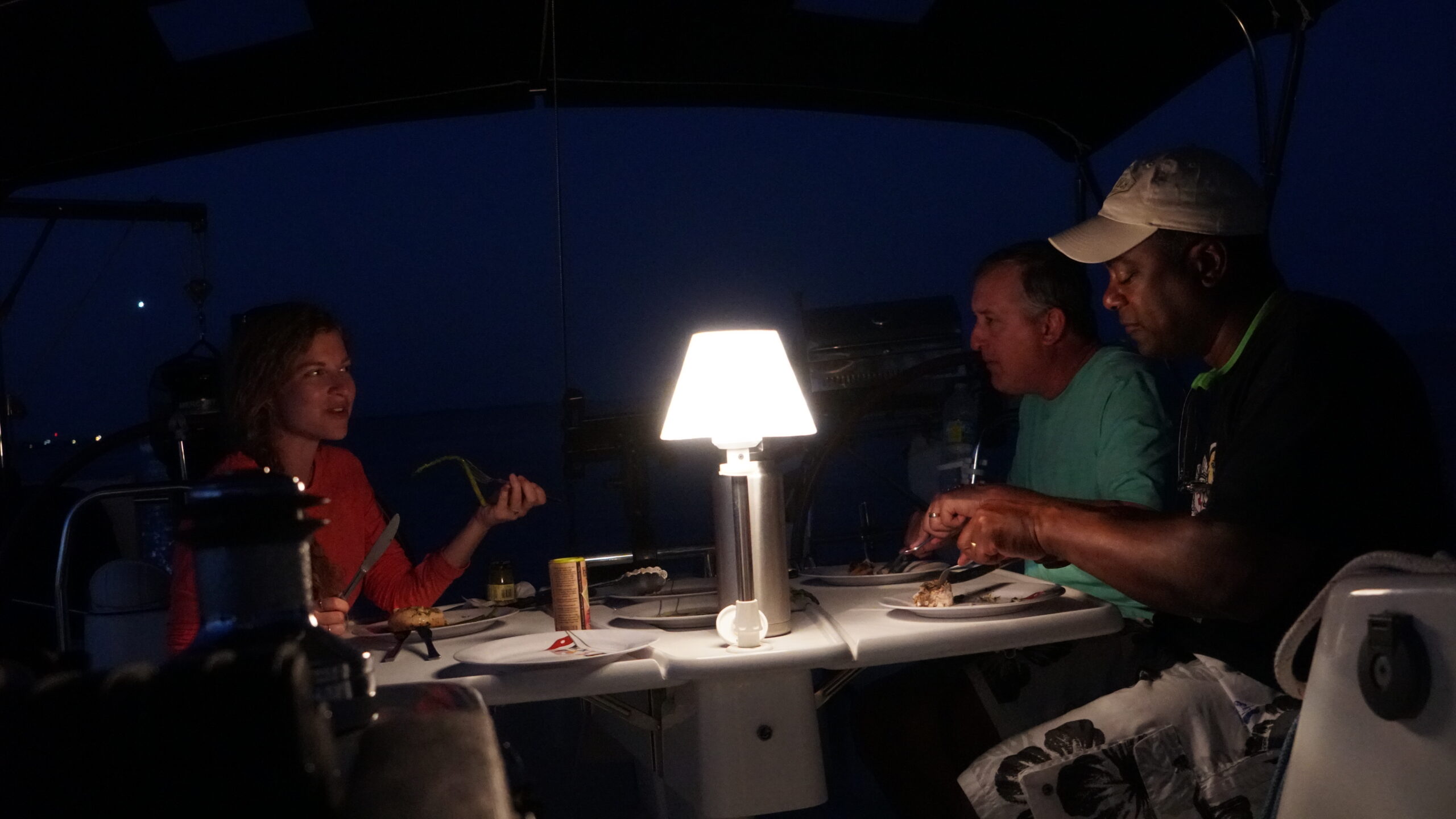 It feels like I just closed my eyes when I open them again, waking up to the smell of flour and maple syrup – is that… pancakes? I didn't pack food for pancakes. So that's what Mike had in the zip-lock bags! Mike is making pancakes! I jump out of bed, and head to the galley. The four of us gobbled down as many as we could, stored the rest away for snacks, and set out for our next stop – Fort Lauderdale.
We are all on deck before the sun has begun to rise. The goal is to arrive well before the evening, and for that, we must leave early. I look around and notice there are significantly more boats scattered around us – and some without their mooring lights on! I take the helm and Brian, Mike, and I navigate between the shallow waters and the elusive sleeping boats.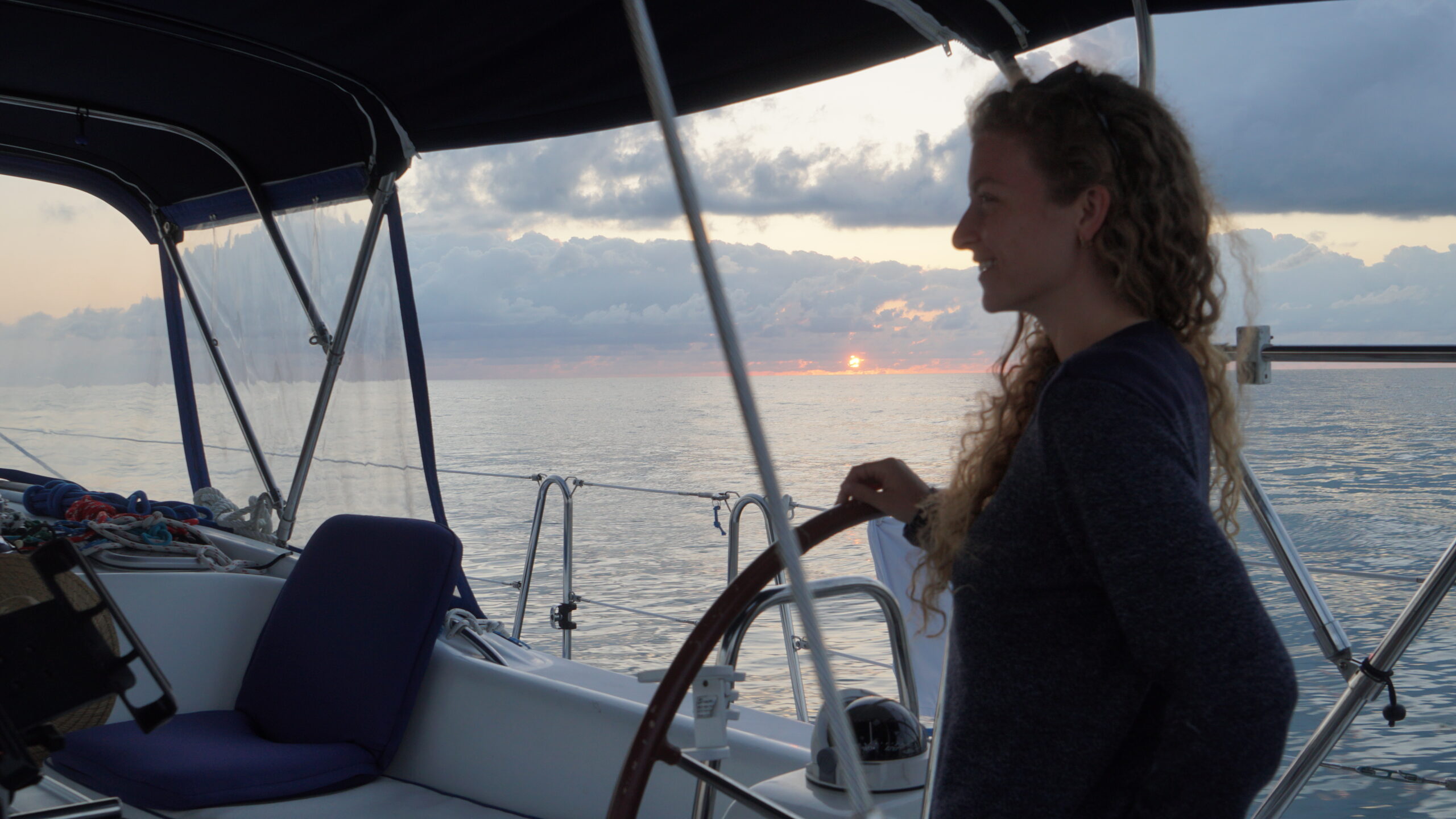 By mid morning we are cruising along just past Atlantic's three mile mark. It's a beautiful morning, with not a cloud in sight. The wind is right on our tail, and with such little force we continue to motor. Brian and I sit behind the wheel, while the others lounge in their vicarious spots around the boat, when suddenly the VHF cries. "Calling S/V Shonto, calling S/V Shonto, do you copy?" Brian and I share a perplexed glance, and he quickly replies, "this is Shonto."
"This is the United States Coast Guard, please switch to channel 62." The United States Coast Guard?! I think something has happened to another vessel, and we're about to be told to investigate. Brian switches the channel, "this is Shonto."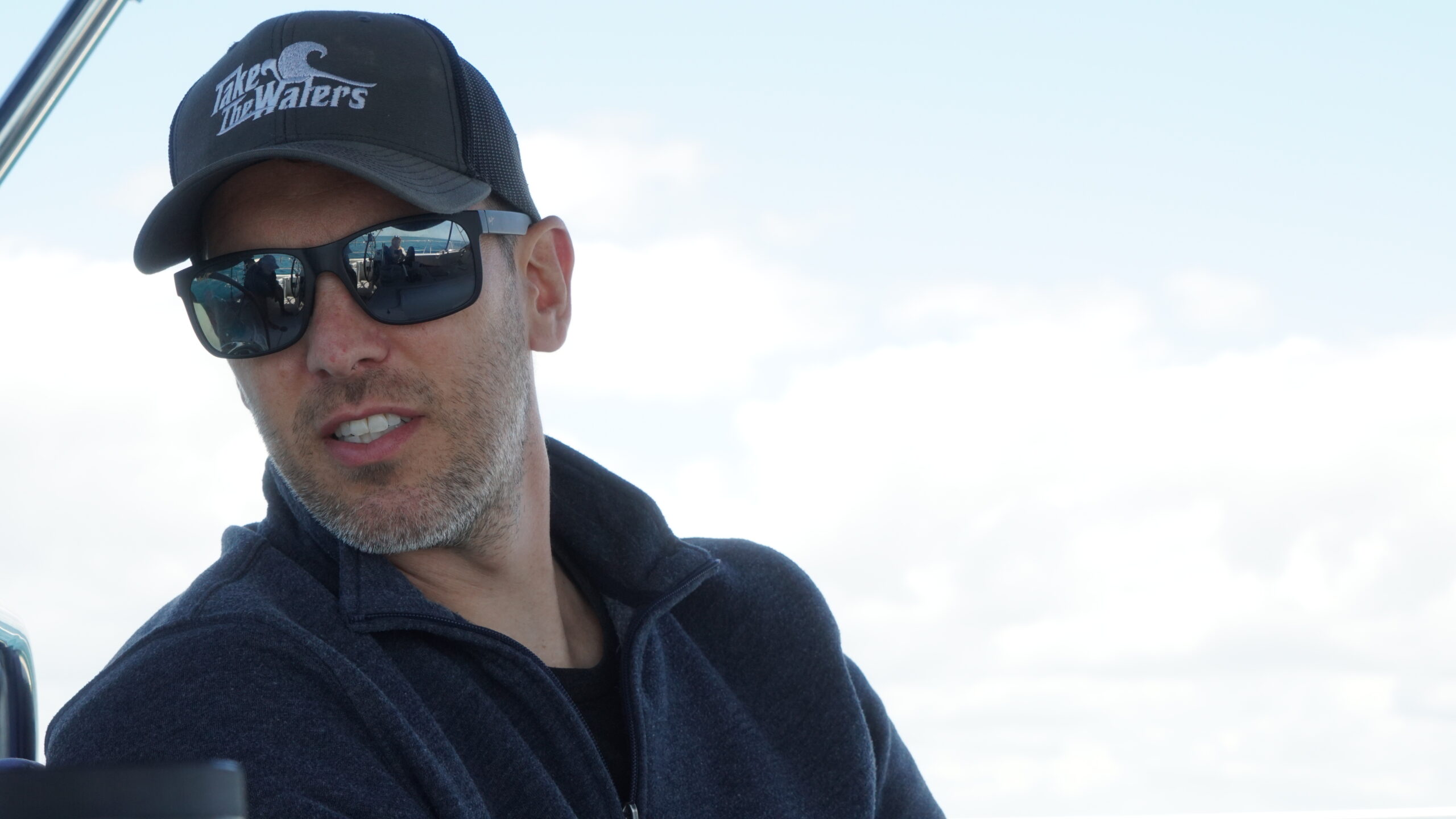 "We have reason to believe you are smuggling narcotic goods from Cuba. We see your location, prepare to be boarded." We flash another look, this time more of exaggerated shock. "Okay…", Brian says in a most hysterical "come at me bro" type way. Just at the moment, a roar of laughter comes from below deck. An "APRIL FOOLS!" is called over the radio. It was Mike! "Son of a bitch!" Brian cries out, and the boat is full of laughter. How could we forget it was April 1st! This will become the funniest, most lighthearted event to happen all day.
After some hours, with our consistent low force tail wind, we decide to try pulling the spinnaker. Brian has been antsy for this moment the entire trip. Marion is not thrilled with the idea, after hearing of our inexperience with it, and shuffles below deck. Brian hauls the sacked sail up threw the companionway. He rips away the cover, and drapes the entire sail over his shoulders, lugging it up the side deck. I wait patiently from behind the helm for Brian to secure both ends of the sail. He gives me the signal, and I move to the wench and pull up the halyard. The sail creeps up behind the genoa as Brian loops the spinnaker's sheet through its blocks.
Swoosh! The spinnaker takes on wind before we anticipated. Brian rushes to secure the sheet on a wench, but the sail can't make up its mind, crinkling and folding in all directions. Mike, having heard the commotion, comes skipping up from below. Suddenly the sail fills with air like the most beautiful hot air balloon. A spectacle of billowing orange, blue, and yellow lie out before us and we three cheer on in excitement. We gain only a knot, but raising it, somewhat successfully, for the first time had us beaming. That is until the wind dies down to nearly nothing and the sail quickly crumbles over the bow, toppling itself over lifelines and rigging. Brian and I race to the bow to keep it from snagging when once again it fills up with air. Another burst of cheers! Followed quickly by another disappointing "aww" as it loses steam. The sail falls around us and we begin to drown in its parachute like material. Swimming through it, I look over to see a pouted lipped Brian, disappointed of the sails failed flight. We laugh and accept the failure of our spinnaker attempt, and wrap the sail back up.
Fort Lauderdale appears on our horizon, and we estimate another two hours until we reach the port. The sun disappears and the sky fills with gray clouds. Our once steady ride evolves to a rocking, back and forth. I peer out behind us and can see the wave heights increasing. The auto-pilot begins to exaggerate the wheel spins and I disengage. I've never steered in anything other than calm waters, and I feel my heart rate jump with every wave that forces us to rock. A mix of excitement and nerves is rushing through me as the waves become more and more rough. For an experienced sailor, this is nothing, but as a newbie like me, I'm finding this exhilarating!
I have been steering for over an hour when Mike takes the wheel, with his feet no less, and I sit on deck, watching Mike and laughing silently to myself at how stiff I've been steering. The waves are even higher now and much closer together, moving in hap hazardous directions. I watch as the waves crash against the jetties as we get closer to port, becoming more intimidated of their sprays as we move closer. I'm stunned to think Marion has been down in the cabin reading all this time!
Spray mists our faces while we sail in to the cut, with Brian now at the helm. I watch the plotter and help direct him away from shallow water. We maze our way through the canals twists and turns. Marion comes up for air and immediately begins researching the prices of surrounding houses and yachts, informing us of the local canal economy. After passing under our last bridge, we attempt to back in to our slip. The current and winds are strong, and we find many boaters in this canal are not courteous as they cut us off from behind as we are backing up. On our third try, we are successful. Mike, Brian, and I do our parts to secure the vessel to the dock, when Marion emerges from below deck. All of his luggage is strapped to his body. He steps on to the deck, looks to us and asks, "Is there a gate code?" This is the last we see of Marion.
Time begins to feel elusive. The days, blurring together. We're up with the sun, and asleep when it sets. We take our time in Fort Lauderdale, and spend the next day taking it easy. Being ahead of schedule, and with rain in the day's forecast, we are in no hurry. We peruse the local West Marine, share a few drinks on the beach, and read on the deck.
We have one more overnight sail until we reach Port Canaveral. The next morning, I bow thrust and steer our way out of the slip and in to the canal before handing the wheel off to Brian. The current and winds are strong and I don't feel prepared to handle the boat in this condition without the depth sounder. As we begin the approach on our last turn out of port, we see a pilot boat guiding a monstrous tanker to our right. Brian slows Shonto to a halt, and after observing how slow both pilot and tanker are moving, we continue instead of waiting. The engine is throttled to its highest pace and we veer left in to the canals final stretch, directly in front of the tankers path. The waves are surprisingly high and shifty. I turn around and gasp when I find the pilot right on our stern, with the tanker not far behind. We head to port and the chart plotter beeps at us in alarm to our being dangerously close to shallow waters. The pilot boat continues getting closer and the man violently throws his arm out the side window, as a "get out of the way!" The stress is climbing as Brian teeters the fine line between the unknown shallows and this aggressive – and rightly so – pilot boat, all while fighting the washtub of waves. It feels like forever before we reach the cut, where we scoop out left in to the ocean even before we've reached the buoy's. I look again behind us – the pilot has slacked off. The three of us share a glance of disbelief. Never… again… will we go before the tanker – we've learned our lesson!
The skies are dreary and gray. The waves are higher than we anticipated, but with consistently long troughs. After our initial ride into Fort Lauderdale, I don't find these seas intimidating. In fact, I even mention to the others that riding these waves is fun! Bite my tongue…
A pitter patter drums on the bimini. The wind apps predicted 2 foot waves, a squall was not even something we thought of. Behind us, the sky turns in to a ferocious purple black. What is at first jolting boat movements from the waves become drastic sways, back and forth. Shonto's port life lines come inches from the water's surface before, BOOSH, slamming to the starboard side on the next waves crest. The three of us, tethered and clad in our life vests, can do nothing but sit and hold on. Brian keeps his composure and his hands steady. After crawling down below, securing some last loose items below deck, I sit right on the floor by the back stay on deck. Three hours of constant, exaggerated slamming is becoming a lot to handle for all of us. My phone shows reception and I pull up the weather map – something we hadn't looked at before. A huge RED storm cluster engulfs Fort Lauderdale, and is traveling north faster than our boat can move. We can't stay in this, it isn't safe!
Lake Worth is the closest port we can find, and Brian gathers a list of marina contacts to call. "You're out in this?! …No, we have nothing available, but try calling this number." After a few more marina's, we finally find a transient slip. We look at the marina's location on the charts. Three hours have already passed – arriving at Lake Worth will take four more. I take another look at the updated weather only to see the storm cell widening and traveling up the coast faster than previously predicted just moments before.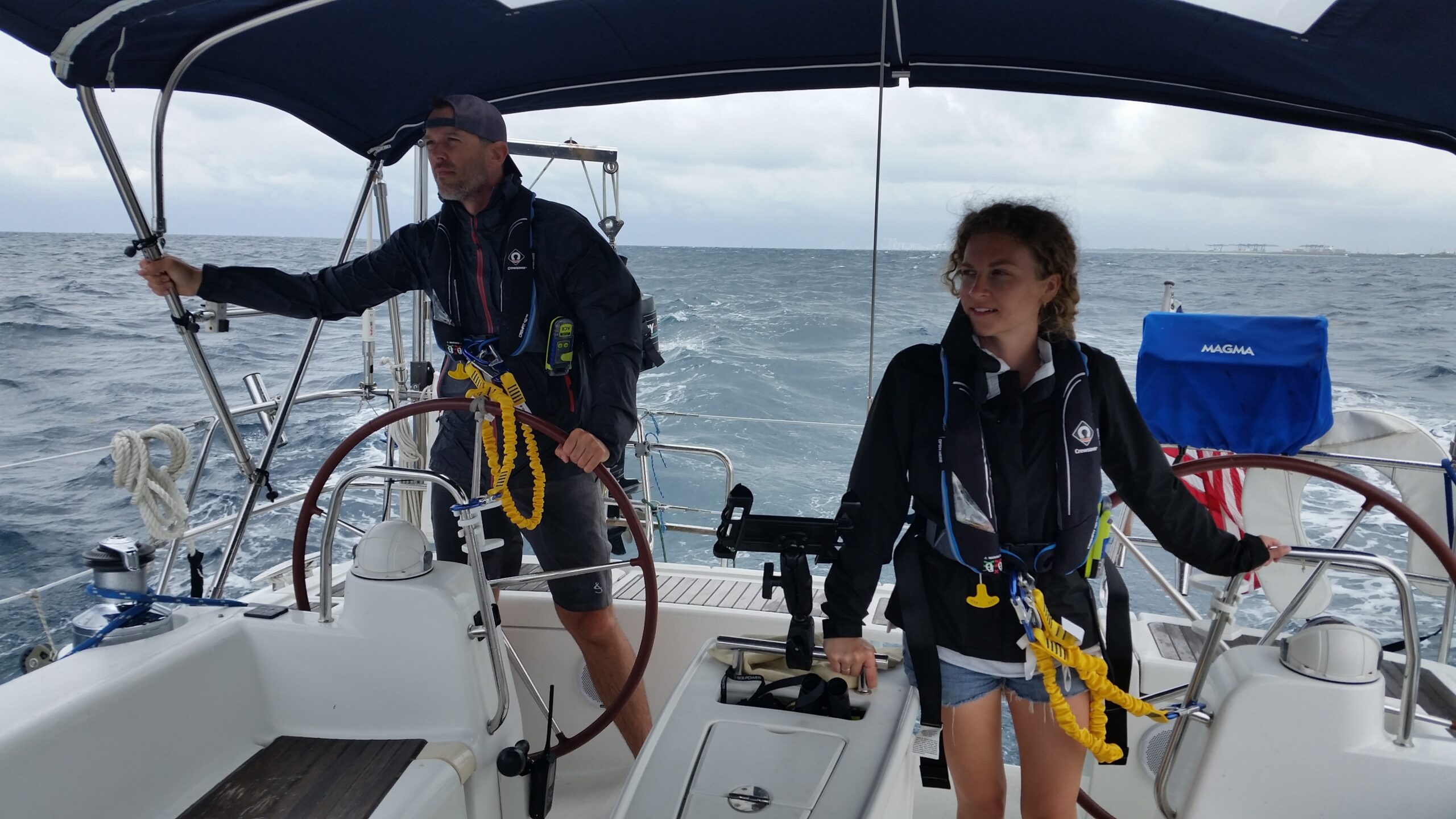 It's mid-day, and Brian, who's still manning the helm, is the first to speak for hours – he requests a snack. I untether and crawl across the cockpit. Below deck I'm on hands and knees, sliding left and right, catching my body before slamming in to cabinets. My sides stiches are beginning to burn from all the tension in my sides. I open the fridge and see the bag of leftover pancakes. Snagging one, I crawl back on deck. Brian takes a bite and instantly regrets feeling hungry. With a look full of apology, he hands it back to me. An hour passes when spray douses my face. I wipe the sea water from my eyes only to realize a tight fist has since obliterated that pancake. I look around and see nothing but 30 white knuckles, getting whiter with every passing wave.
We estimate the waves reaching nine feet. When we slide down the backside of one wave, the next one to come is already taller than we are. Water is rolling over the bow, and our lifelines seem inches from the water's surface with each heel. I see what looks like a large, pointed tree trunk floating in the water. It strangely sinks just to pop up seconds later. Oh… that's not a log – I think to myself – it's a shark. "Shark," I point and say in monotone. I have no energy to muster any other expression. We look around and count at least six sharks circling us. The charts tell us we are crossing red reef, a fish haven. This is precisely the moment I become most thankful we purchased offshore life vests, tethers, and personal locator beacons.
We have hardly spoken all day when we share our relief as the waves die down upon entering Lake Worth. Inside the cut, the current is strong. We find a lonely mooring ball and decide to tie up on this instead of fighting the current in to an unfamiliar dock slip. I whip up three gourmet peanut butter and jellies. We gobble them down just before our exhausted bodies fall heavy on our pillows.
The morning after, the weather is calm, and we take advantage of the quietness to restore ourselves on our seventh day of the journey. We read, drink beer, dance to bluegrass, and sit watching the large ships enter and leave the canal. There are no more storms in the forecast, and tomorrow's winds and seas show as in our favor. We double, triple!, check our last stretch of route before reaching Cape Canaveral – including the weather apps.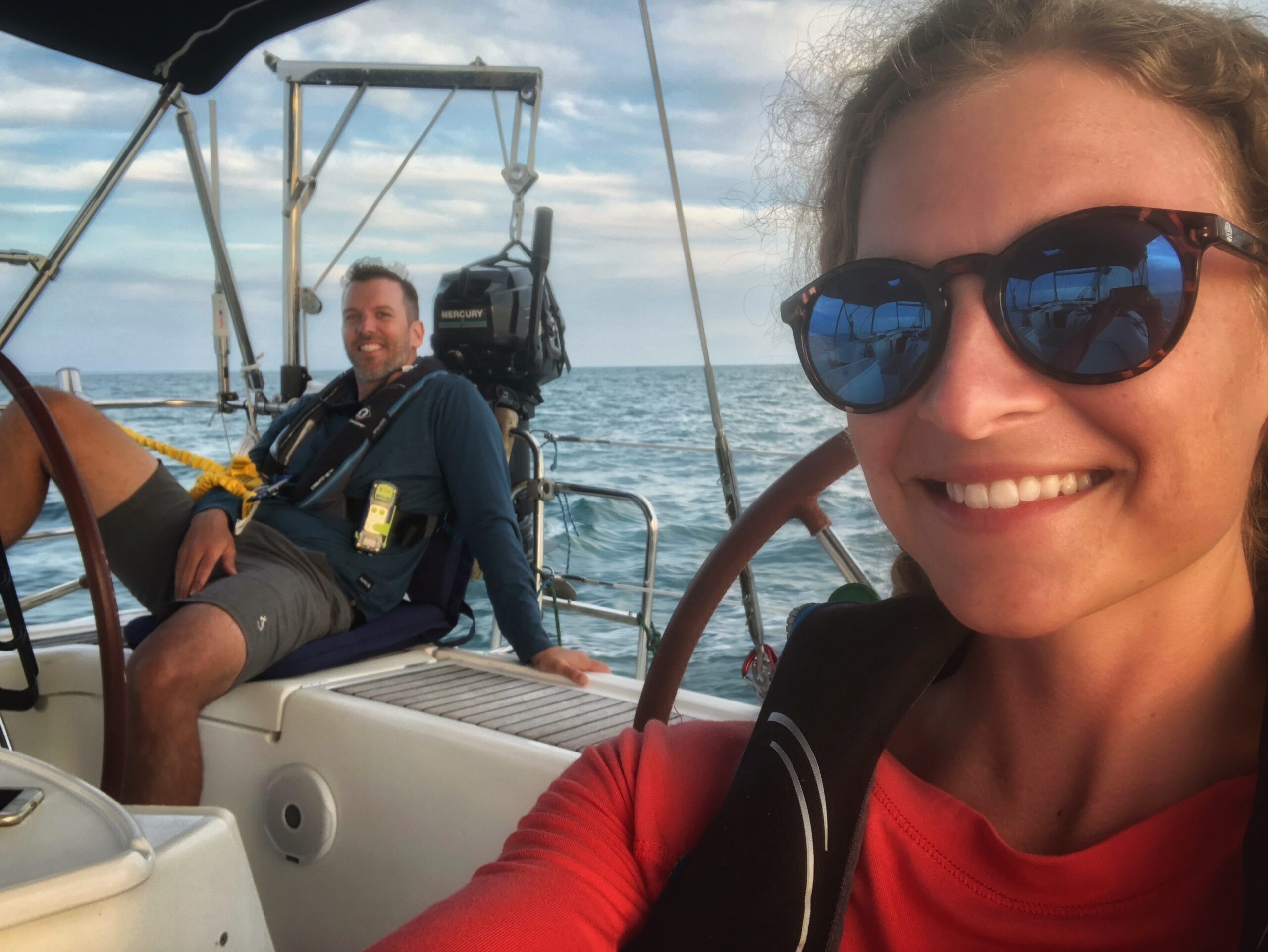 Leaving the canal is a hectic experience. All is quiet and calm as we pull our way out of the mooring field the following day, but once we turn for the cut it becomes a playground of the grandest gesture. Jet skis are zooming between extravagant fishing boats. Center consoles speed up and down the canal while touring helicopters fly terrifyingly low. It feels like a scene out of Jurassic Park, but with a Miami Vice spin. Once we pass the mayhem, and are miles in to the Atlantic, I take the helm for the next four hours. The seas are accommodating, and I am grateful of my newfound respect for the ocean!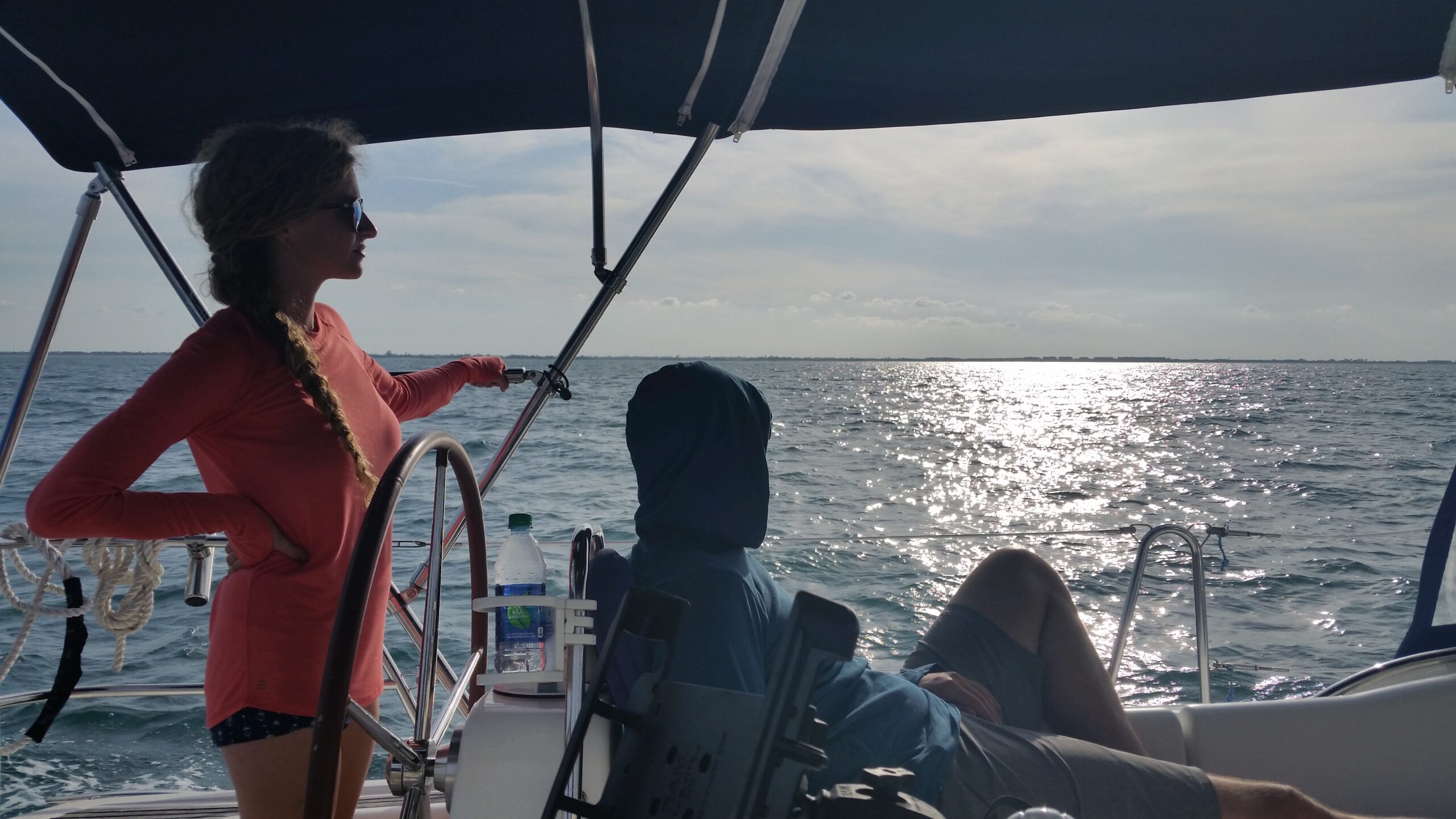 It's the last stretch of the trip, and when you'd think it wouldn't matter, we find ourselves sailing too fast. If we keep up this pace, we'll get to Port Canaveral just after sundown. Advice goes, and sound at that: never go in to a new port at dark. We reef some sail in hopes to arrive just before dawn.
We are lucky enough to continue having perfect weather, but the seas become relentless by sun down. Large steep swells began to rock us again. Sleeping is impossible. My short sleep window is consumed with me sliding up and down the entirety of the bed. Defeated, foggy, and exhausted I make my way back on deck where I am greeted by two other grouchy crew, who have us bobbing outside of the port. We indeed have arrived earlier than predicted.
A cruise ship, with all its lit up glory, appears on the horizon, heading for the port. We decided to wait for the cruise ship, as to avoid any kind of previous big tanker mishaps. The carnival liner makes its way through the markers within the hour. It is time for us to make our way through, too. The color of the eastern sky is starting to light up as we turn the wheel for port.
Passing the initial markers, and entering the cut, is a nightmare. It is Sunday morning, at dawn… a peak time for fishermen to haul ass to the best spots first. Had we been in better mindsets, and not exhausted to the brink, maybe we would have realized the error of our timed entry. Hundreds of fishing boats play chicken with us, as if it was a sport. The stress of dodging this boat and that boat and keeping our keel length in mind was tiring.
Once through the hornet nest of fisherman, and past the bridge and lock, we are gliding down our very last stretch of canal before reaching our new marina. The contrast is startling. Everything here is quiet, serene, and still, as if a gifting metaphor for our trips end. Cruising down the canal feels like an exploration, with its mangrove borders keeping little marina's and entry ways a secret. We slip behind the bushes that hide our marina. Previously, the office told us our draft would fit, but that the last foot was pure muck. Brian begins backing in to the slip when the rudder won't budge. We turn on our bow thruster when we manage to wiggle our way back in to the slip. Mike and I secure the mid and bow lines on our respective sides. We turn off the engine, and engage shore power. The three of us sit on deck, quiet, exhausted. We did it – we sailed around Florida in nine days!
Everyone has dreams and desires of what they would like to do in their lives. Something they find a passions for, something that gives their life a true feeling of worth – it doesn't matter how seemingly big or small, how new or how old the dream. My dream of sailing came later in my life, and after this trip I feel this is exactly where I want to be. Was it challenging? Absolutely. Was I concerned at times? Of course! Do I still want to sail around the world? HELL YES! I realize, accept, and appreciate how far I've come since we first bought the boat, and how so much more still I have to learn. I've already come out of this trip with a few bits of advice under my belt and ways to handle situations different in the future: be prepared for weather; make sure you're compatible with your crew members; take bigger trips slower; be precise with instructions; and never forget your team is your team – everyone is in this together.
I wish I had more energy to celebrate, but all I wanted was a nap. At 8am, I fall asleep. At 11am, the three of us walk to the marina's bar and toast with a morning beer.